---
How It Got To Be The Way It Is...
---
In 1971 the New York Times sent a reporter to visit the Queen Mary as she completed her first season as a mass tourist attraction in Long Beach, California. Impressed with the scope of the effort, if not with its finesse, the reporter found that many of the shopkeepers aboard the ship were struggling to survive. The masses of tourists had not resulted in significant retail sales. The merchants' hoped for salvation was a delayed four-star hotel operation that they expected to open the following year. It would bring aboard better heeled and more liberal-spending customers, they reasoned.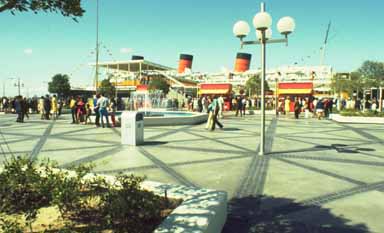 The Queen Mary shortly after opening in 1971. The hotel was not open at this time.
While wishing the best for the great ship that was once a beloved feature of the New York City landscape, the reporter wondered whether a first class hotel could ever find an appreciative audience in the middle of a tourist attraction.
As it turned out the common sense misgivings of the New York Times reporter were well founded: the hotel that opened in 1972 failed to attract the type of clientele that the shops required to thrive or even survive. All of those on Sun deck have long since closed and the space is now given up to other uses or remains empty. The better-located shops on Promenade deck have fared a little better, but the village of shops that opened on the property in the mid-1970's is a ghost town in all but name. It is currently slated for demolition.
The new hotel was in fact a downscaled and down classed version of the four star hotel first envisioned by consultants to the city of Long Beach prior to the ship's purchase in 1967. It ended up being little more than three decks of cabins sandwiched between a tourist attraction and a catering facility. Though the cabins were spacious by ship standards – then and now – they were only about half the size of a typical first class hotel room found ashore. Few if any amenities were reserved for hotel guests on the tourist ship. Many of them had in fact been removed from the ship during the conversion:
| | |
| --- | --- |
| | The gymnasium, and cabins on Sun Deck that the city's consultants initially saw as part of the hotel or an ancillary club had been gutted for supposedly more commercially lucrative tourist shops. These were the very shops the New York Times reporter found struggling for survival by the end of their first tourist season. |
| | The large tourist class lounge on Main deck that Diner's club had envisioned as a venue in which to recreate an elegant and private shipboard atmosphere for hotel guests was instead stripped of its furnishings and reassigned to the banqueting catering service. |
| | The first class swimming pool was rendered unusable by the conversion, the Turkish baths had been gutted and the equally elegant second class pool and gymnasium on the aft lower deck were removed to make room for new tourist exhibit space and public lavatories. |
| | The barbershop and beauty parlor rhapsodized about in early Long Beach promotional materials about the expected world class hotel facility that the ship was to be, were also gutted and turned into administrative office space. |
| | Even the dog kennels on Sports deck that the city's consultant saw as a unique amenity for canine-loving hotel guests had gone - turned into an electrical closet. |
---
---