---
The Second Class Children's Playroom
---
| | |
| --- | --- |
| | The second class playroom (called tourist class before World War II) was located adjacent to the second class cocktail lounge on Main deck. |
---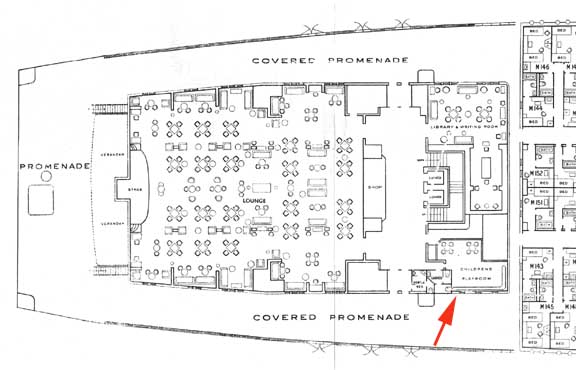 Map showing location of second class playroom
---
According to the Shipbuilder, this room was "approached by a wicket gate from the starboard side of the main-deck entrance hall." A model railway with double track ran around three sides of the room. It was complete with stations, signal boxes, sheds and a tunnel.
• Fine models of the "Royal Scot" train and a tank goods train were on the tracks.
• Suspended close to the ceiling was an airplane which could "fly" along a special air route on wires.
• Underneath the railway were caves containing stuffed animals and toys in a great variety.
Henry Perry painted the walls and the Korkoid floor was inlaid with miniature racetracks and draughtboards. The furniture consisted of small oak tables and stools upholstered in brightly colored hide.
---
History of Use
1936 -1939 - The playroom existed as described above.
1940 -1946 - The Queen Mary was used as a troopship.
1947 – 1967 - the second class playroom retained its original decor and function in the refit, but it was expanded to incorporate portions of the adjacent pre-war cocktail bar that was removed in the postwar refit. (A new cocktail bar for second class passengers, called the "Mermaid Bar" was created on the star board side of the enclosed promenade on Promenade deck in the postwar refit.)
1968 to present - the second class playroom was entirely gutted. The space is now simply a hall area off the "Britannia Salon", that was created out of the second class main lounge on Main deck. It is one of the largest meeting/banqueting rooms of the hotel operations.
---
Potential for future restoration and re-use
The second class playroom could conceivably be rebuilt as an amenity for the use of hotel guests. Since it is located at the back of main deck near the former second class lounge, library and writing rooms, together with them, it could provide an authentic setting in which hotel guests could experience life on a great luxury liner.
---

Return to Index by Deck

Return to Index by Class of Accommodations
---