---
The Third Class Entrances, Main Stairway, and Public Rooms
---
The third class entrance hall, main staircase and public rooms were located in the forward part of the Queen Mary and extended from Main Deck down to original E deck. All of the public rooms and other amenities for third class passengers including the purser's office, barber's shop and other service departments were arranged in close proximity to this multi-tier central core. A large passenger elevator serviced Main to original C deck now called "R" deck.

Entrance Hall and Stairway

The staircase is double wide and built of light oak. (Metal speed bumps were incorporated into the banister to discourage children from using it as a slide.)
---
An original section of (uncarpeted) third class stairway. Locked away today, but often seen on guided tours .
---
According to the Shipbuilder:

"The entrances and stairways are in light oak, silver-grey in tone with contrasting bands of darker oak, while the doors are also in oak. The floor covering in these spaces is of Korkoid in shades of brown and gold with contrasting borders in biscuit, light blue, red and brown."

---
Third Class Garden Lounge - Main Deck

This room was the main lounge for third class passengers. Semicircular in shape and measuring 80 ft wide by 35 ft long, its forward portholes offered a splendid view of the sea. Wicker chairs with cushions covered in patterned linen, three jardinieres filled with fresh flowers, a fine marquetry panel and a large merchandise display window paneled in pommeli and embellished with silver-bronze metal created a cheerful atmosphere meant to suggest a winter garden.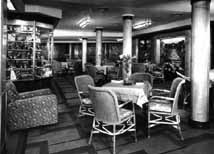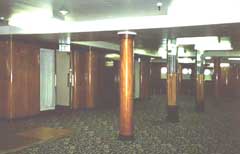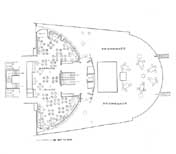 The Garden Lounge in 1936 when new, and the same room today, rarely used.
---
Third Class Smoking Room - A Deck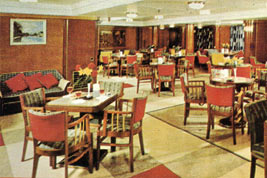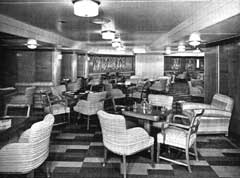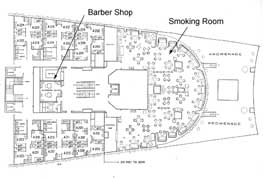 Located directly beneath the garden lounge but extending further forward was the third class smoking room. It too was semi-circular with a width of 80 ft wide but had a depth of 60 ft. Its 22 portholes also provided a fine view of the sea on good days. They could be covered with metal shields when the weather was bad.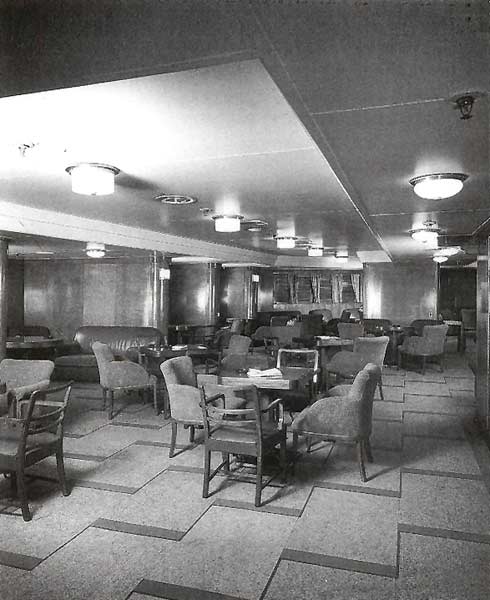 The smoking room was paneled in a finely figured light oak arranged in alternating vertical and horizontal bands. Deep recesses contained built in settees complimented by armchairs and small tables. Small tables and chairs for parties of two three, and four completed the furnishings. A large marquetry panel depicting a hunting scene was incorporated into the port-side wall. A dark oak bar decorated with silver-bronze metal and glazed panels enhanced the starboard side of the room. The color scheme as seen in the upholstery and flooring were harmonizing shades of green, beige and brown.

---
Hairdressing Salon and Barber Shop - A Deck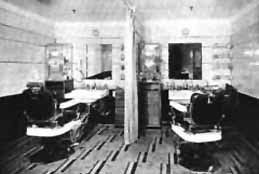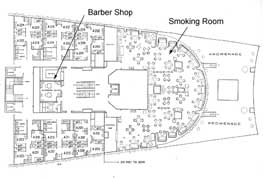 Across the entrance hall from the smoking room was a "Ladies' and Gentlemen's Hairdressing Salon," in our terms a unisex barber shop/beauty salon. Similar high quality floor and wall treatments and equipment were found in these facilities for all three classes. They differed primarily by size. In first class, there was a separate ladies salon and men's gentlemen's barber shop. According to the Shipbuilder, they included "Formica paneling, Staybrite-steel sections, woodwork in Australian walnut, display cabinets, sterilisers, towel steamers and other electrical equipment."
---
Third Class Lounge/Library and Cinema - B Deck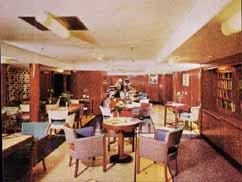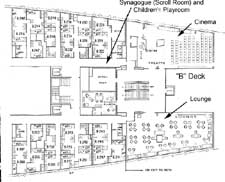 Third Class Lounge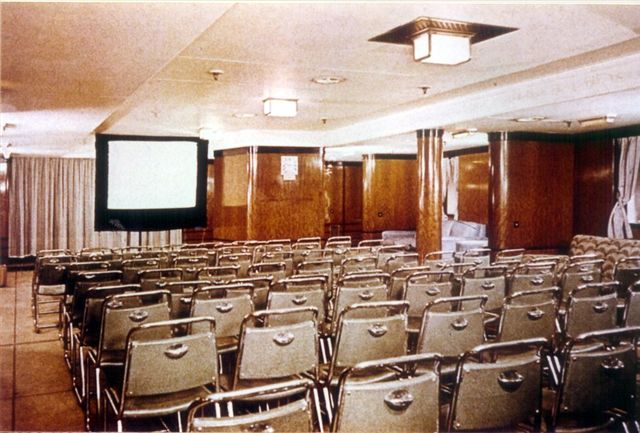 Cinema 1936 - left, and 1998 - right. Below these is a photo of the room in 1967.
B Deck was configured with a central entrance hall that was 40 ft by 27 ft. The stairwell was at the center of this core and arranged off this central entrance were two separate lounges, the port-side lounge was designated as a cinema and the starboard lounge as a library/lounge. Opposite were located the third class children's playroom and the scroll room or synagogue.

Each lounge was 60 ft long by 30 ft. wide. Both were paneled in a beautifully figured cherrywood, with contrasting bands and a cornice of Honduras mahogany. Large bookcases fitted with roller shutters are found on the inboard wall of both rooms. Indirect lighting enhanced the bookcases.

The color scheme determined by the Korkoid floor was predominately cinnamon with shaded stripes of chocolate, cinnamon and black.

When the port-side room was used as a cinema stainless steel and leather stack chairs were set in rows of 8 to 12. The room could accommodate about 120 for a film presentation. A raised platform allowed for live theatrical presentations as well as cinema screenings. A dressing was available for artists in theatrical shows.
---
Third Class Children's Playroom - B Deck

This room is described in detail in the feature on the first class playroom in the "Lost Glories" series.
---
The Scroll Room - B Deck

Adjacent to the playroom was located the first synagogue/scroll room known to be built into a new commercial passenger vessel. Seating 23, a side entrance provided direct access from first class corridor.
---
Third Class Dining Room - C Deck

A detailed description of this facility is provided in a separate article.
---
Third Class Stairway - D to E Deck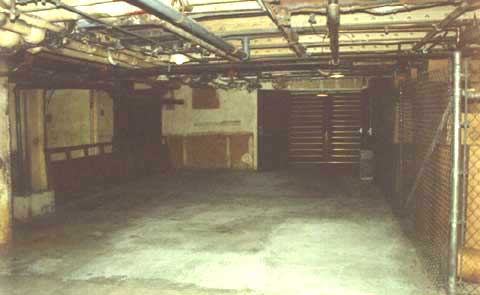 The Third Class Stairway continued down two more decks where most of the third class cabins were located. The above picture shows the bottom of the staircase where it emerged into a cabin area on old D Deck (now C deck). This area was extensively gutted in the conversion.
---
History of Use
1936-1939 - The rooms were used as described above.

1940- 1947 - During World War II the ship was converted as a troop transport.

1947-1967 - The rooms described above were restored to their pre-war condition and use in the postwar refit. New linoleum was put down and furniture was periodically re-upholstered.

Note: Cunard enhanced the amenities available to third class passengers after the war. The pre-war first class triple deck tennis court on Sports deck was re-assigned to third class after WWII. Some cabins on forward B deck were rebuilt as third class cabins. By the 1960's third class (now called tourist class) had cabins on A deck as well. In the early 1960's the first class Observation Bar was re-assigned to third class use.

1968 - present - In the Long Beach conversion the original third class public rooms were converted as follows:

Garden Lounge - Main Deck - designated as a meeting/banqueting room, the furniture was removed and the room was carpeted. Florescent lighting was added in the 1980's. The marquetry panel was recently returned to this room at the direction of Ronald Smith, exhibits manager of the RMS Foundation.

Smoking Room - A Deck - this large public room has been essentially gutted and turned into an exhibits display area for the "walk through" tourist attraction. It now houses what are called the "Bow Area Exhibits". These include a sample first class suite, as well as a sample second class cabin and third class cabin. The fire alarm display board was relocated here from "R" deck and mockups of a corner of the Starboard Gallery - mislabeled the "Long Gallery" and a mock "purser's desk" are found here. Traces of the original oak paneling exist in forward portions of the room.

Cinema and Library/Lounge - B Deck - these rooms survive virtually intact, minus their furnishings. Carpeted and re-lamped, they are reserved for meeting use.

Playroom and Synagogue - B Deck - the interiors of these rooms were removed in the conversion. In the late 1980's a key/lock repair shop was established here under the Disney regime. At present the rooms (now one) are vacant. Elements of their original decor are displayed in the Sun deck exhibits and also in the "Art of the Queen Mary" display on Promenade deck.
---
Potential for future restoration and re-use
We believe that commercial uses compatible with full restoration of these rooms are possible.
Rather than trying to "upgrade" them to make them more superficially attractive, we believe it would more useful and practical to recapture their unique third class identity and employ them for a combination of historic interpretive uses, meeting and event uses, and for the suggested "in-port cruise program" alluded to in several of our articles.

Attraction /Historic Interpretive Uses

Today the meeting rooms created here are amongst the least used on the ship. They are "dark" or unused most days. They are readily isolated from the hotel area (by re-hanging a few doors on Main, A and B decks that served as class barriers). The third class entrance and hence the multi-tiered suite of rooms is accessible both from the wharf (at current R deck) and from the bow area on Main deck without invading the hotel areas.

As a result, the Garden Lounge or a restored Smoking Room could serve as "home away from home" for day time visitors/tourists to the Queen Mary. Those purchasing full day passes with multiple tours, (assuming a multiple tour is created), might use them to relax in between tours and perhaps be served a light snack or refreshment that would be partially covered by the cost of their full featured boarding pass.

---
The Smoking Room - many of the exhibits once found here were removed to make room for a retail outlet used as the exit for the Ghosts and Legends tour in the summer of the year 2000. We believe that this room would serve the ship and its visitors better if restored and used as a lounge and refreshment room reserved for day visitors to the ship.
The Third Class Cinema and Library - have recently been used in conjunction with exhibit space created in the forward mail-handling spaces. For the exhibit entitled "Treasures of the Last Czar," in 1999 the port side third class cinema was effectively used for the opening video presentation. We suggest consideration be given to restoring or replicating the original stack chairs.
The exit from the exhibit was through the former third class library/lounge on the starboard side. It served as a gift shop and refreshment area. Well selected merchandise reflecting the exhibit was sold as were elegant refreshments - including Russian vodka and fresh caviar.
The forward mail handling space and crew quarters on B deck appear to be reserved for changing exhibit use for the indefinite future. The continued use of the cinema for film and video presentations is appropriate. We encourage the RMS Foundation to include information on the original use of the area as part of these exhibits.
The use of the starboard library/lounge as a refreshment area and merchandise area is appropriate. We encourage them to consider returning some of the original furnishing to this room as part of the functional restoration.
The Third Class Children's Playroom and Adjacent Synagogue - might be re-installed as an exhibit and viewed on a guided tour of this area. Many of its fittings and toys remain on the ship used in other displays. Why not show them where they came from?
Meeting/Catering Uses
Parallel to the attraction uses described above, many of the rooms could also serve meeting and catering needs.
The Third Class Dining room could seat 400 people in one seating. Its potential for banqueting/meeting usage is described in the article devoted to it.
The Garden Lounge - refurbished with wicker furnishings might serve as a reception room where drinks and tray foods are served. (Because of the serious on-going damage caused to the Queen Mary by daily moving metal tables and stack chair into and out of "banquet rooms" and the makeshift galleys scattered around the ship, we recommend that sit down banqueting be confined to restored formal dining rooms on current "R" Deck.)
A restored Smoking Room and the existing B Deck Lounges might also be used for meetings and receptions. Local civic, cultural and historic societies could be encouraged to have their monthly meetings in these handsome but rarely used rooms. A nominal fee for beverage service might be charged for "sponsoring organizations." Qualified community involvement would benefit the Queen Mary. The Queen Mary might become their home away from home.
The Synagogue - although small, the scroll room might be used for various Jewish ceremonies - weddings bar mitzvahs, etc. The adjacent lounges might serve the reception that precede and follow the ceremonies.
In-Port Cruise Uses
If the "ship within a ship" concept and an active "in-port cruise program" were developed, activity rooms for seminars, lectures, presentations, and planned activities such as bridge games, and crafts would be required. The third class public rooms are well suited by size, design and location for these hotel guest orientated activities as well as use as part of the attraction and catering services discussed above.
---

Return to Index by Deck

Return to Index by Class of Accommodations
---