---
The Third Class Children's Playroom
---
| | |
| --- | --- |
| | The third class playroom was adjacent to the Jewish scroll room/synagogue on B deck. |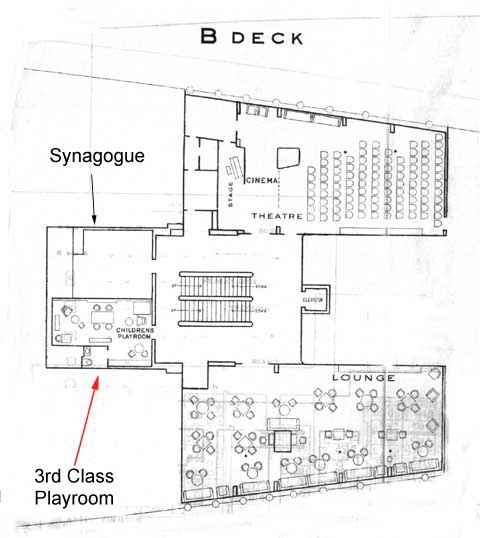 Map showing location of third class playroom
This room was paneled in sycamore with a dado in oak. The walls featured two paintings by C. Cameron Baillie, illustrating the story of Sinbad the Sailor. The color scheme of the red and blue was used in the small furniture. The room was well stocked with toys, a comfortable writing desk and a large blackboard on one wall.
Other furnishings included a rocking horse and two unusual chairs - one in the form of an elephant and the other a bear. A folding playpen was included for small toddlers.
---
History of Use
1936 -1939 - The playroom existed as described above.
1940 -1946 - The Queen Mary was used as a troopship.
1947-1967 - the Third Class playroom was retained as built in 1936 until the ship coming to Long Beach.
1968 to present - in the Long Beach conversion the third class playroom's interior was removed. The room is now used as a storage area.
For many years it was on the route of the single guided tour of the historic ship. It is currently erroneously labeled "the nursery." Tour guides used to tell an apocryphal ghost story here about an unnamed infant who was supposedly born on the ship but died shortly after birth. The guides tell of hotel guests hearing the cries of a newborn infant coming from this room. The guides never explained that a newly born infant would never have been placed in a playroom for youngsters.
---
Potential for future restoration and re-use
Recreating the third class playroom in its original location is a fairly straightforward task. Many of its decorative elements survive including the "Sinbad the Sailor" murals, the blackboard, and toys and furnishings. Photographs of its interior and deck plans showing the exact location of its furnishings also exist.
---

Return to Index by Deck

Return to Index by Class of Accommodations
---