---
Explanation of Recommendations for A Deck
---
Click here to open our "as proposed" deckplan in a new window. It will then be available for quick reference with a single click during the reading of this article. You can also open deckplans of the ship as built and as she is now by clicking on the below links.
Deckplan as built
Deckplan as is in 2000
---
Mechanical Space beneath Forecastle - the original power installation for the anchor and warping equipment is still in place, but inoperable, behind the tourist toilets added during the conversion.

Per the R. Jacobs plan it could be restored for use with the equipment pictured here on the right.
---
| | |
| --- | --- |
| The Well Deck – we suggest that the teak decking be restored, the fast food stand removed as well as the double doors added during the conversion to what was the Third Class Smoking Room. | |
---
Third Class Smoking Room – is restored as a lounge for tourists use.


The Ghost and Legends gift shop (pictured above - left) is removed along with its elevator. The elevator mechanism is relocated to the shaft of Hold # 1. The remaining historic exhibits such as the original fire station (above - right) are relocated to their original sites. The fire station was on R deck and might be seen in-situ on the proposed Guided Tour B.

Third Class Entrance Hall and Stairwell – restored with pre-war linoleum pattern and upgraded lighting. The third class elevator is put back into use.

First Class Cabin Area – now hotel rooms. The current renovation is completed included restoration of the special suites.
We look forward to seeing the passageway carpet replaced with a better selection.

We suggest that the vending machines placed in the passageways be relocated to a hotel guest convenience pantry in the center area of the ship.
We recommend that all original passenger elevators be restoring to functional use.
---
Second Class Passageway – the only remaining segment of second class passageway is found on A deck towards the stern. The cabins were rebuilt as larger hotel rooms, but the passageway's unique decorative scheme remains largely intact and should be retained for its historic interest.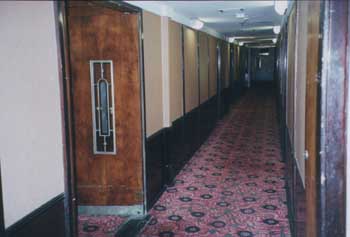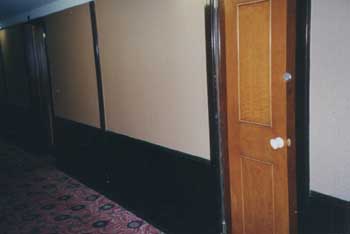 ---
Second Class Overflow Lounge – now called the Capstan Room. We see this area serving as an upper deck exercise room and casual lounge for hotel guests and club members.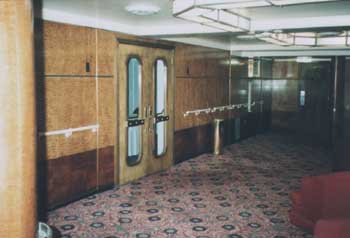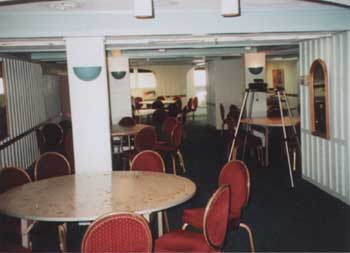 ---
| | |
| --- | --- |
| The Capstan Deck was originally an equipment area at the stern on A deck that was off limits to passengers It became a hotel guest deck area in the conversion. All equipment was removed in the late 1980's. It is now a barren deck with a spectacular view | |
---
| | |
| --- | --- |
| We recommend: | |
Replacing the emergency steering skylight – now to light the aft theater and lecture room on current D. deck.
Replacing some of the capstans but not the massive warping winch.
Using this deck as a recreation/lido deck for hotel guests and club members.
---

Return to Deckplans page
---