---
Explanation of Recommendations for B Deck
---
Click here to open our "as proposed" deckplan in a new window. It will then be available for quick reference with a single click during the reading of this article. You can also open deckplans of the ship as built and as she is now by clicking on the below links.
Deckplan as built
Deckplan as is in 2000
---
Mail Handling and Crew Area – this area was converted to museum exhibit space in 1999. We see it continuing in this role. We recommend that a display on its original functions be included in the exhibits.
---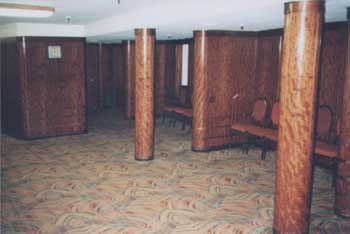 Third Class Cinema – largely intact.
We see this room used as a film presentation area for our proposed Guided Tour B that is intended to cover crew quarters and third class accommodations. When special exhibits are in the forward exhibit area it might also be used for an opening orientation to these exhibits – as it was for the RMS Foundation's exhibit entitled in 1999 "Treasures of the Last Czar."

---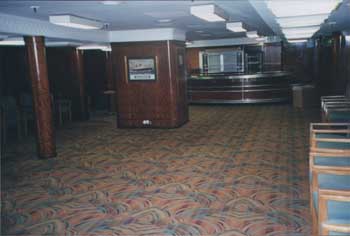 Third Class Library – largely intact.
We see this room continuing to be used as the exit area from the forward exhibit area and as its refreshment area and gift shop. After regular tour hours both the third class cinema and library might also be made available as meeting rooms for local non-profit foundation committee and board meetings as a for-public-benefit service.

---
Third Class Entrance Hall and Stairwell – restored with pre-war linoleum pattern and upgraded lighting. The third class elevator is put back in functioning use. This area would be closed off from the hotel area during regular visitor hours (10 a.m. to 6:00 p.m.), but opened to the adjacent hotel areas in the evening to encourage hotel guests and club members to explore the entire ship.
Third Class Playroom – now a storage room. The principal elements of its décor remain on the ship. We see them re-installed here and the room seen on the proposed Guided Tour B.
The Synagogue/Scroll Room – now a storage area. Should be fully restored. The room would be seen on the proposed Guided Tour B, and might be used for ceremonies during non-visiting hours. The nearby third class lounges (on Main, A and/or B decks) as well the third class dining room on R deck might be used in conjunction with the Synagogue for associated hospitality requirements.
First and Second Class Cabin Areas - now hotel rooms. We anticipate that the current renovation will be completed. As indicated in the explanation for Main and A Deck, we also look forward to seeing the carpet replaced with a better selection. As on these decks we suggest that the vending machines now located in the cross passageways be relocated to hotel guest convenience pantries in the center area of the ship. In addition:
We suggest that the center ship areas over the second class dining room and the potential fourth dining room on R deck directly below possibly be used for additional height as was the case with the conversion installed Windsor Salon.
| | |
| --- | --- |
| We see the original first class barber shop and the first class beauty parlor restored as exhibit areas for the proposed Guide Tour A of first class accommodations. We see the cash control function now installed here, relocated to purpose built office space on the property, but off the ship. | |
The entrance to the stairs to the first class dining room, now used as a vending machine area, is restored with the original stairs (photos below)..
A number of conversion-rebuilt center ship cabins and utility areas might be sacrificed to provide extra headroom for the restored second class dining room on R deck below, as well as a proposed fourth dining room reserved for hotel guests and club member use. This fourth dining room on R deck aft would be located in an area that now houses a crew costuming facility.
The Isolation Ward exhibit and related areas are retained as exhibit areas. Access would normally be limited to hotel guests and club members as it falls within their reserved area of the ship.
---

Return to Deckplans page
---