---
Explanation of Recommendations for C Deck
---
Click here to open our "as proposed" deckplan in a new window. It will then be available for quick reference with a single click during the reading of this article. You can also open deckplans of the ship as built and as she is now by clicking on the below links.
Deckplan as built
Deckplan as is in 2000
Bow Area - the forward area of crew quarters, now partially intact, is restored for viewing on Tour B and for use in filming.
Third Class Cabin Area forward of the Working Alley – a significant section - not merely one or two cabins is restored for viewing on Tour B and for filming usages. The fully restored cabins might also be used for staff needing overnight accommodations due to work assignments.
Working Alley – the remaining portion of the port side section of the original working alley is restored for viewing on Tour B.
(See also: the article on the working alleyway )
The massive wooden doors separating working alley from third class passenger accommodations are recreated in place (see photo below).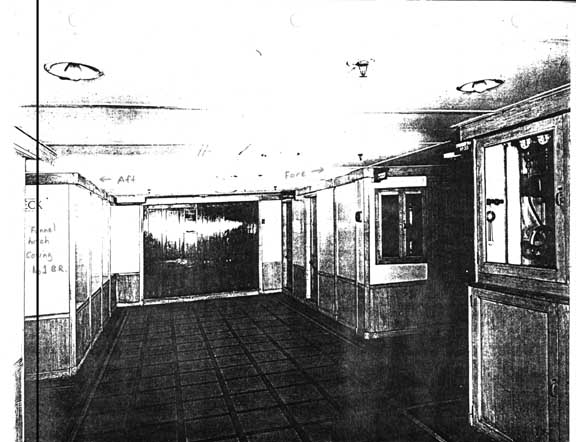 The kosher kitchen is restored both for viewing on Tour B and possible use.

The large utility pipes and lines inserted here in the conversion (as well as on D deck) are relocated to the area over the fuel tanks below current D deck. Shoreside connections are relocated below the waterline and join the ship in the recessed areas found along the side the length of the hull. Linkages to the upper decks are relocated as necessary into the engine room ventilator shafts.
Starboard Side – Option A – existing offices are retained as is the existing Exhibit Hall. (The service entrance to the exhibit hall might be relocated further aft.)
Starboard Side – Option B – 50 new first class grade cabins are added to starboard side of this deck in the aft 2/3 of the ship. The main first class entrance staircase is brought down to current C deck, as are the four elevators in its vicinity. The second class stairs and elevators are all restored to service this deck once again. The current Exhibit Hall is closed. The upper two portions are used as logistical support areas. The lowest level is integrated into the powertrain tour (Tour C).
With both options the upper area of the current aft museum entrance on D deck is redesigned as a new Hotel Guest and Club Queen Mary entrance lobby. The Royal Theater is retained for Option A, but is removed in Option B. The aft "Gallery" area is redesigned for stadium seating as a theater and briefing room.
The Second Class /Frame 70 Staircase and associated pair of elevators – are restored to service this deck and its cabins. With Option B, the aft second class stairs and large single elevator are also restored to service this deck.
---

Return to Deckplans page
---