---
The Compass Platform and Radar Room
---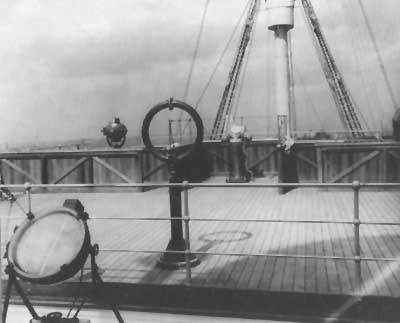 Located directly above the wheelhouse for which it serves as a roof, the teak-decked compass platform originally contained a wireless direction-finder, a standard compass, the floodlight for the forward funnel and a port searchlight.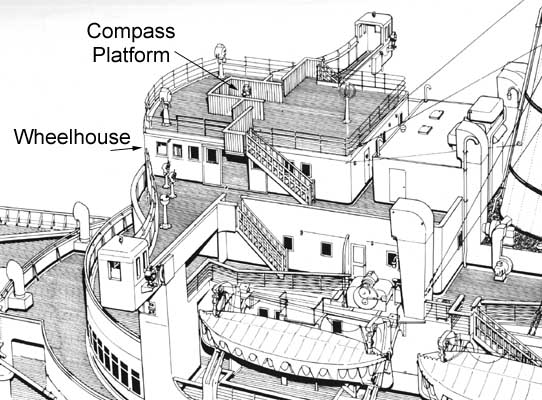 The forward area was enclosed by a varnished teak banister with a silver painted metal railing around the periphery of the entire platform. A canvas windbreak could be attached to the upper portion of the silver painted metal railing near the compass. <![if !supportFootnotes]> [1]<![endif]>
History of Use
1936 – 1941 - The compass platform functioned as originally designed and described above.

1942 – 1946 - During the World War 2 the Queen Mary, a highly strategic Allied asset was fitted with a medium range surface-search radar unit during her 1942 rework in Boston. It was placed in a tower just aft of the compass platform, on the top of the adjacent water tank room (see photo below). <![if !supportFootnotes]> [2]<![endif]>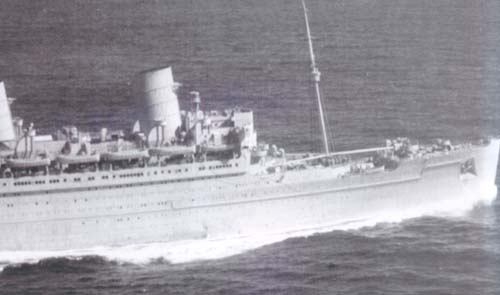 .
1947-1967 - In the postwar refit the wartime radar tower installation was entirely removed and replaced with a presumably more advanced but smaller scale radar unit on the compass platform itself. It was enclosed in a new radar room that was constructed in the center of the compass platform in 1957.



Above - the radar outfit on the compass platform, July 1947.

1967 - present – During the Long Beach refit the stairwell up to the compass platform on the port side was widened and a third staircase was added on the starboard side – presumably to handle the expected crowds eager to see the radar installation and enjoy the view from this high perch. The radar equipment itself was not maintained in working order but the antenna was made to simulate it being so.
Current use of the area - at present, 2005, the area is derelict and closed off to the public.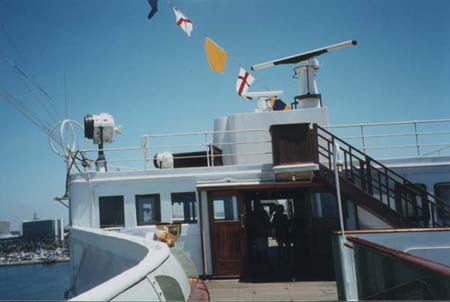 ---
Restoration Potential
This fascinating area of the ship deserves consideration for restoration to its post 1957 condition. It could be a part of the "self-guided" tour or it could be a "special visit" area.
q The teak decking and the teak banister should be restored.
q The metal rail should be repaired -- and possibly repainted in the original (1936) metallic silver.
q The additional stairwell added in the Long Beach refit on the starboard side should be removed and the original stairs repaired.
q The radar installation might be restored to do more than create the image of a swirling antenna.
q The original light fixtures might be restored to working order.
---
Return to Index by Deck

Return to Home Page Index
<![if !supportFootnotes]>
---
<![endif]>