---
Explanation of Recommendations for Sports Deck
---
Click here to open our "as proposed" deckplan in a new window. It will then be available for quick reference with a single click during the reading of this article. You can also open deckplans of the ship as built and as she is now by clicking on the below links.
Deckplan as built
Deckplan as is in 2000
Navigation Officers' Quarters – the restoration of the wardroom, adjacent cabins and the internal staircase to the wheelhouse will help create a much stronger sense of place and atmosphere here for visitors. Trained docents are essential for the interpretation of this area.
Triple Deck Tennis Court – the recent clearing of HVAC mechanical equipment and deck restoration is applauded. (See below in before and after photos.)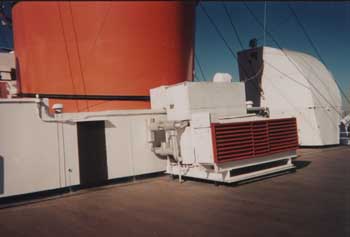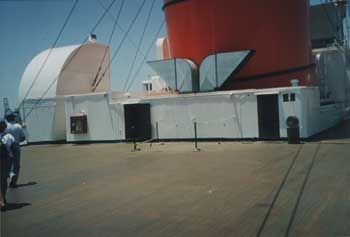 The remnants of the fast-food service counter should be totally obliterated and deck tennis made available to hotel guests and visitors. With a spectacular view of Long Beach, the area might also function as a reception/entertainment area in the evenings.
Midship deckhouse – the unsightly mechanical equipment now cluttering the top of houses should be retrofitted into the second funnel, along with the new HVAC equipment in the kennel exercise area (seen below) as well as the electrical equipment in the kennel proper.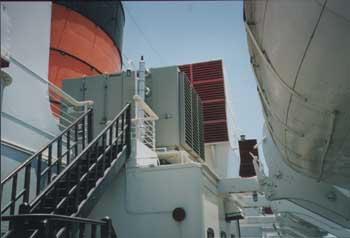 The Kennels – should be restored as a self-guided attraction exhibit area. A docent should be present during attraction hours.
Observation Balcony for the Squash/Racquetball Court – with the amateur ham radio operation relocated to the former water tank behind the wheelhouse, the observation platform can be restored. The decking added to the upper level of the Squash Court should be removed to allow for the restoration of Squash Court below. The original skylight, minus its diffuser panel is seen below.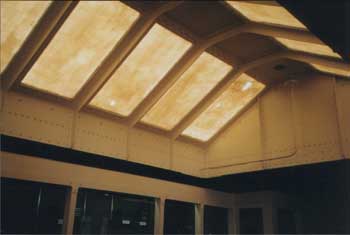 Side Decks adjacent to Main Lounge – teak decking should be restored along with original sporting features.
Sir Winston's – this successful post 1967 Long Beach conversion feature is retained. The engineering officers' quarters added in 1938 are represented on the ship by the like navigation officers' quarters forward.
If the Verandah Grill re-opens as an elegant gourmet restaurant, the menu of Sir Winston's would be revamped to focus on traditional British fare, as at "Simpson's of the Strand" in London. The extension up to Sports Deck of the grand stairs, elevator and central corridor will improve access and integrate the area better with the ship below. The top of houses forward might be used by the restaurant patrons as an outdoor lounge and smoking area.
Three views of the Sir Winston's Restaurant situated above the Verandah Grill today.
Left - The appearance today
Center - The appearance with the removal of the shed above the room
Right - The possible future appearance at night.
---

Return to Deckplans page
---