---
Second (Tourist) Class Cabins - A Deck
---
According to the Shipbuilder:
"The stateroom accommodation (for Tourist-class) is arranged over five decks, A to E (current D) inclusive, a large proportion of the rooms, which are for two, three or four persons, being outboard. Perhaps the most striking feature is the generous scale of the bathroom, toilet and sanitary arrangements, about 60 per cent of the rooms having private toilets. The rooms are plain paneled, with flush-panelled ceilings throughout, and a wide variety of painted and fabric finishes has been employed in the decoration."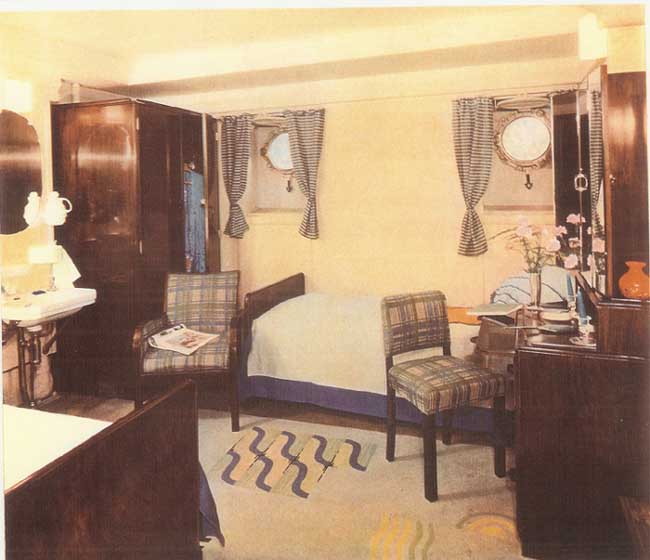 Typical Second Class Cabin (Pre-war)
"The staterooms are finished with mahogany bedsteads, each having a neat lee-board and a folding tea-tray, and in the case of the upper berths a special new type of folding Pullman berthas been adopted. All of the berths have been supplied by Messrs. Hoskins& Sewell,Ltd., and are provided with the spring-interior type mattresses of Simco, Ltd., and others, similar to those supplied for the cabin-class berths."
"Ample wardrobe accommodations has been allotted in each stateroom, and the furniture includes Buoyant easy chairs and settees."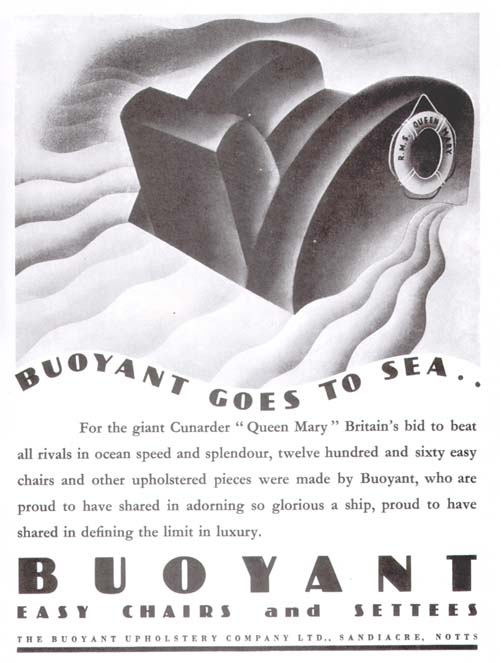 Advertisement for "Buoyant" furnishings.
"The general colour scheme of soft furnishings, for which Messrs. John Brown & Sons, Ltd., have been mainly responsible, is in warm shades of green, blue and gold, and all doors are flush-fitted, thus avoiding unnecessary mouldings."
"All basins are fitted with hot and cold water throughout, and special electric-light fittings are provided over both dressing tables and washbasins. Electric lights with a direct downward beam are arranged over each individual berth, and Thermos jugs for iced waters are available in every room."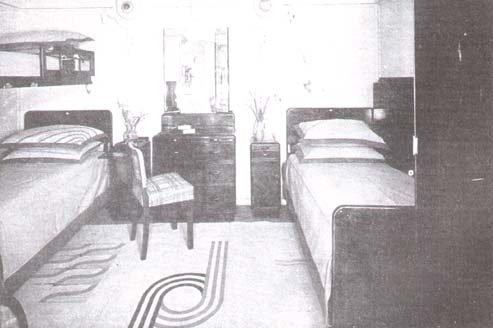 Another view of a second class cabin.
"Thermotank ventilation with punkah-louvre distribution to each stateroom is installed, and is supplemented, and is supplemented by a full equipment of electric fans."
"The stateroom corridors have a dado in polished hardwood, and hardwood pilasters spaced at intervals, the panels between the pilasters being finished with an enameled surface. Flush ceilings are fitted throughout."
---
History of Use
1936 – 1939 - we are unaware of any significant changes made to these facilities as described above during this period.
1940 – 1946 - the ship was used as a troop transport during this period. The precise functions assigned to the A to E deck second (tourist) class cabins during World War 2 is currently being researched.
1947 – 1967 - the paneling and the furnishing were meticulously restored in the post war refit. The cabins were returned to their original use. In 1947 the class names assigned to accommodations were changed. The prewar second class – called tourist class - was renamed cabin class.
1968 – present – all of the second-class cabins on all decks were removed during the Long Beach conversion. Because of their relatively small size they were viewed as undesirable for use as hotel staterooms. Those on A and B deck were consolidated and rebuilt as larger cabins for the hotel Queen Mary. A simple plasterboard wall treatment and contemporary private bathrooms were installed. Some of the original ship furnishings were used in the décor, but overall the new cabins suggest a standard (and budget) hotel room ashore – with the excerption of having portholes.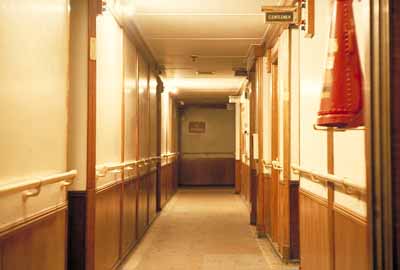 An area of tourist class cabins on R Deck shown just before their demolition in the Long Beach conversion.
In the Wrather/Disney era redecoration in the late 1980s and early 1990s the cabin furnishings were replaced with Biedermeier style hotel reproductions, vaguely reminiscent of an art deco style to those unfamiliar with the history of decorative design.
---
Restoration and/or Reuse Potential
Recreating the original second-class cabins on A deck is, we believe, impractical for the working hotel. (Moreover, the single cabins in the first class areas that were used by servants and or children still survive. These might be decorated with their original furnishings and soft fabric treatment to suggest the original design used in second-class cabin area.) We see the A deck rebuilt second-class cabins retained as part of the Hotel Queen Mary complex.
Some Suggestions:
The décor of these rebuilt second-class cabins remains unfortunate. A new custom, decorative treatment that is more evocative of the Queen Mary would, we believe, make them more desirable as hotel cabins.
The original passageways, where they exist, should be meticulously retained and restored to their prewar second-class standard. The class barriers should also be incorporated in the décor as interesting historic footnotes.
See also:
Hotel Queen Mary - Creating a ship within a ship for hotel guests and Club Queen Mary members.
Club Queen Mary - creating a new social center for Long Beach.
---
Return to Index by Deck
Return to Home Page Index
---