---
Explanation of Recommendations for the Compass Platform and Navigation Bridge
---
Click here to open our "as proposed" deckplan in a new window. It will then be available for quick reference with a single click during the reading of this article. You can also open deckplans of the ship as built and as she is now by clicking on the below links.
Deckplan as built
Deckplan as is in 2000
Compass platforms - primary goals include fully restoring the compass platforms for safe public access, restoring the two original teak stairs to the platforms and all banisters, while removing a third added in Long Beach.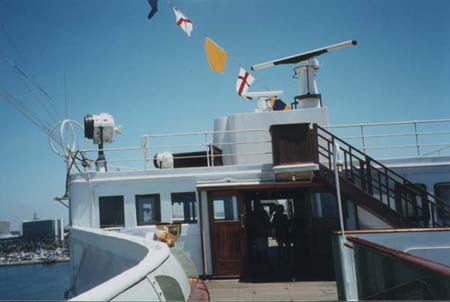 The Wheelhouse
Top of Water Tank – relocate the large HVAC unit (seen below) either to a raised platform constructed inside the upper portion of the first funnel or to a state of the art cooling plant on the lower decks. Its current location obstructs the classic profile of the Queen Mary.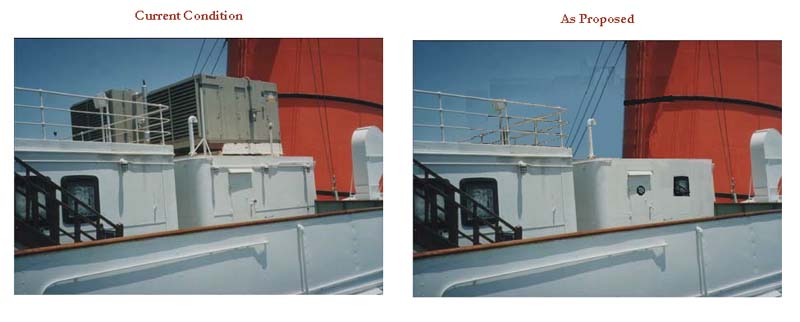 HVAC unit behind wheelhouse could be placed inside funnel.
Wheelhouse – fully restore the ceiling, all wood paneling, and the floor. Restore and repaint all navigation equipment, restore or replace all glass.

The condition of the Bridge windows today. Compare photos of the pilot house of the recently restored "Milwaukee Clipper" at http://www.milwaukeeclipper.org/tour/pilot.htm .
Recreate the stairs in the map room area to the officers' quarters below – to emphasize the close physical and psychological connection between the wheelhouse responsibility and the navigation officers life. Well-trained docents should be assigned to the bridge.
Water Tank – consider adaptive reuse as the new site of the amateur ham radio operations. This change permits full restoration of the Squash/Racquetball Court on Sun Deck and its observation balcony on Sports Deck currently occupied by the amateur ham radio club. See the related article on the wheelhouse for further details.
---

Return to Deckplans page
---