---
The Synagogue
---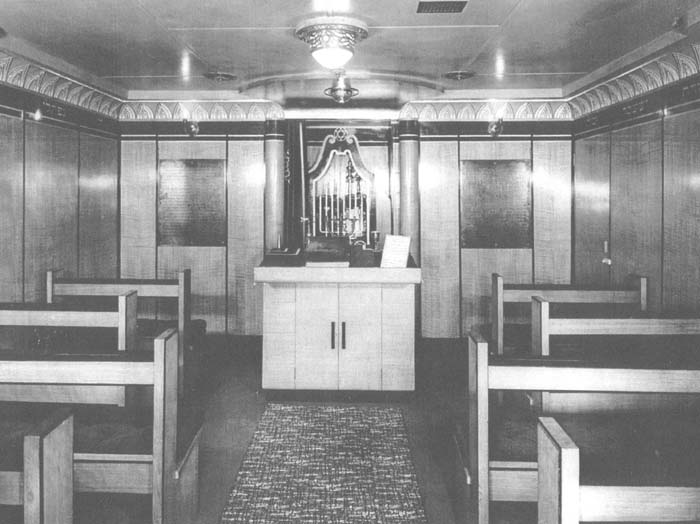 In the early 1930's as the British were building the world's largest and fastest transatlantic liner, Nazi anti-Jewish racism was rapidly increasing in Germany. According to the director of the Judah L Magnes Museum, "Jews were not welcome in Germany or on German ships. In an obvious gesture against Nazism, the British determined to build a synagogue on the Queen Mary as a sign of welcome to the Jews. In the bitter climate of those days, this was an act of courage sorely needed by the beleaguered Jews of Europe."
The synagogue or scroll room was located on "B" deck with direct access from both first class and third class areas. It was a small but beautiful room, with polished light wooden paneling and pilasters, a polychrome cornice, brass prayer plates, custom light fixtures and cushioned pews. .
The location of the Synagogue on B Deck, and the Queen Mary's Torah.
---
History of Use
1936-1939 - The ark of that synagogue, the first ever designed and built for a ship, was dedicated in May of 1936 by the Chief Rabbi of the British Empire, J. H. Hertz.
On June 1, 1936 the Queen Mary completed her maiden voyage to America and triumphant entry into the harbor of New York City. Many Jews fleeing Nazism would worship in the synagogue aboard the Queen Mary.
1940-1946 - during World War II, hundreds of thousands of American and allied troops would cross the Atlantic on the Queen Mary to fight and defeat Hitler's armies.
1947-1967 - The synagogue remained in place throughout the entire service life of the Queen Mary.
1968 to present - After the ship reached Long Beach in 1967 the room was removed along with many other wonderful features of this great ship. Today the space that housed this historic synagogue is a hotel storage area.
---
Restoration Potential
As the Queen Mary's operator and her city stewards plan for the future of this great ship we ask - what more appropriate use could this room have than to be restored as a memorial to the victims of the holocaust?
The room lies on the very route of the single guided tour offered to visitors on the ship. Hence its restoration would enrich the meaningfulness of the historic tour.
Detailed deck plans and photographs remain in the Queen Mary Archive. The one shown above was provided courtesy of the Queen Mary Archive.
Many of the furnishings including three of the cushioned benches seen in this photograph are on display on Sun deck, along with an original menorah, a Torah breastplate and one of the two bronze dedication plaques. Victims of their own Diaspora, they are displayed torn from their original context along with objects from other religious backgrounds.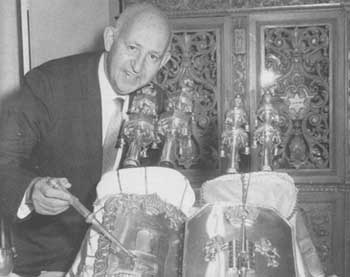 Rabbi pointing out breastplates protecting sections of the Torah.
Significant architectural elements remain in storage including a twelve-foot section of the polychrome ceiling cove and eight-veneered pilaster casings.
The ark itself is still in existence, but no longer in the Queen Mary Collection. It is now housed at the Magnes Museum in Oakland where it was fully restored after years of neglect. It might be reproduced.
The ship's current stewards might well ponder the inscription of the prayer plaque that once graced the wall of this beautiful synagogue. It reads:
"May the supreme King of Kings in his mercy inspire their hearts and the hearts of all their counselors and representatives with tenderness, to act kindly towards us and all Israel. In their days and in ours may Judah be saved and Israel dwell in safety, & a Redeemer come unto Zion, in accordance with God's gracious will; and let us say: Amen."
---

Return to Index by Deck

Return to Index by Class of Accommodations
---