---
Club Queen Mary
---
Long Beach has a long tradition of supporting social and athletic clubs. For many years the Pacific Coast Club

(left), housed in a Norman style castle on Ocean Boulevard, was the scene of important social gatherings and athletic events. This tradition when coupled with the social and athletic amenities that were once housed aboard the Queen Mary could spark the revitalization of the Queen Mary as a destination resort and social setting. It could bring together upscale repeat local usage with a vibrant hotel experience that is simply unsurpassed in the region.

Consider the possibilities.

The three decks of soon to be restored cabins and suites (Main, A and B deck) integrated with:

A major original lounge reserved for club members and hotel guests
A private dining room reserved for club members and hotel guests
An original writing room and library reserved for club members and hotel guests
An original smoking room reserved for the exclusive use of hotel guests and club members;
The Second Class Smoking Room in its original form. This could be restored as part of the Club Queen Mary

A private bar based on the design of the famed Mermaid Bar;

A supervised playroom for children;

An original indoor swimming pool, gymnasium and health spa reserved for hotel guests and club members' use; and

An outdoor swimming pool, large deck area and deck tennis court area reserved for hotel guest use and Club Queen Mary members' use.
All of these amenities can be created aboard the ship, contiguous to the hotel decks without intruding on the existing banqueting and catering spaces currently in use or intruding on the tourist attraction. This private world of social and athletic amenities, properly marketed, can bring the ocean liner experience alive for Long Beach and area residents and hotel guests alike

.
---
Below: These renderings created by Jeff Taylor show how the proposed dining room of the Club Queen Mary might look on R deck aft.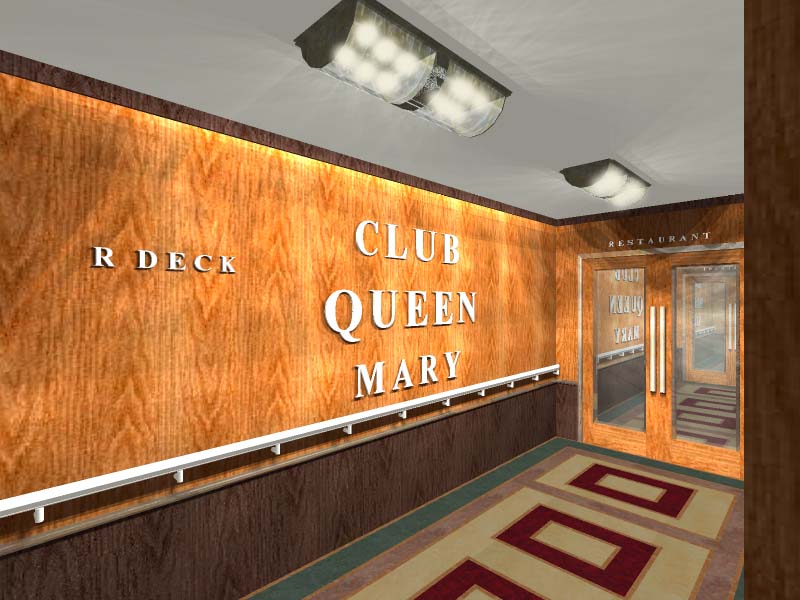 R Deck entrance to the dining room of the proposed Club Queen Mary - the entrance hall is the former second class entrance on this deck.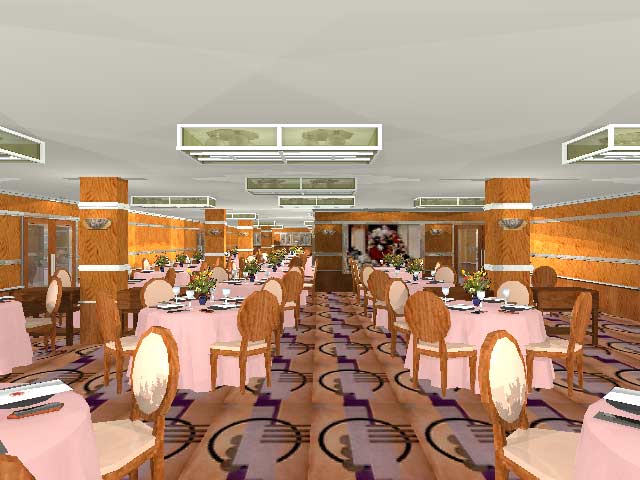 Private dining room with tables set for dinner service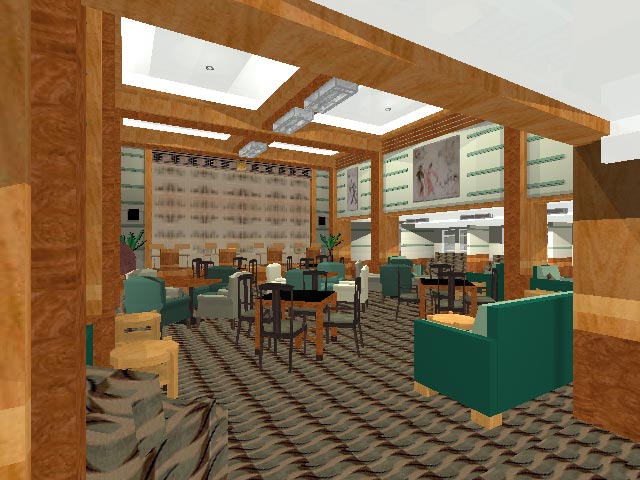 The Second Class Lounge restored for Club Members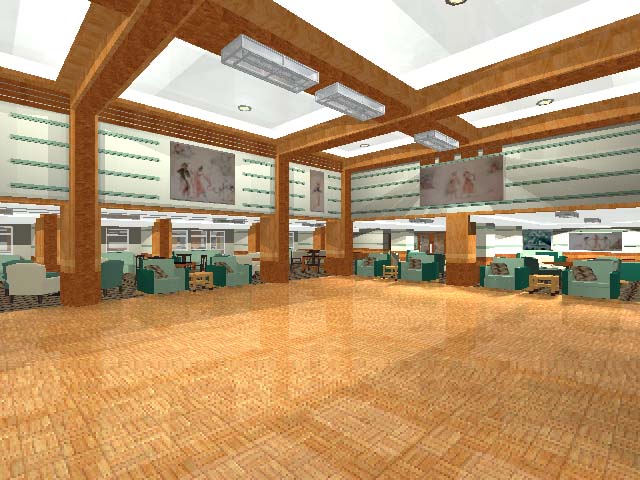 A rendering showing the central carpeting rolled back for use as a dance-floor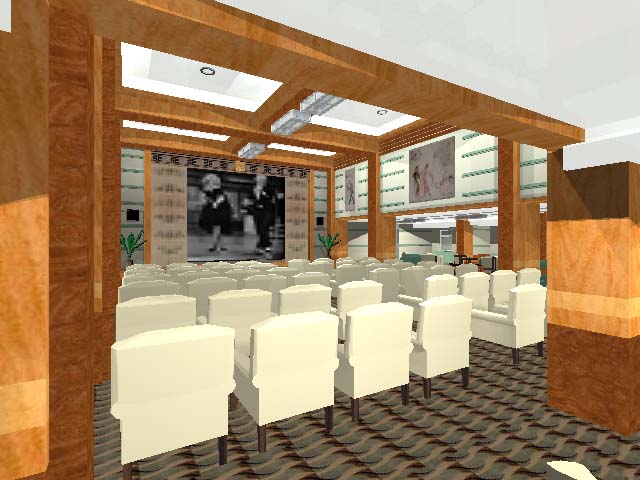 The Second Class Lounge set up as a cinema.
.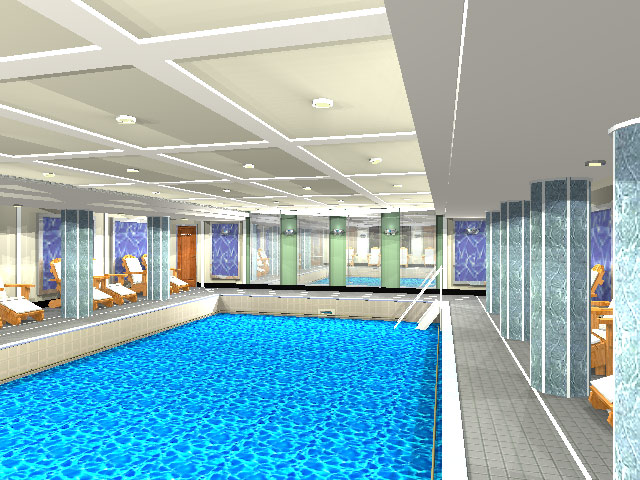 The aft swimming pool as it might look reconstructed for hotel guest and Club Queen Mary member use.
Rendering by Jeff Taylor.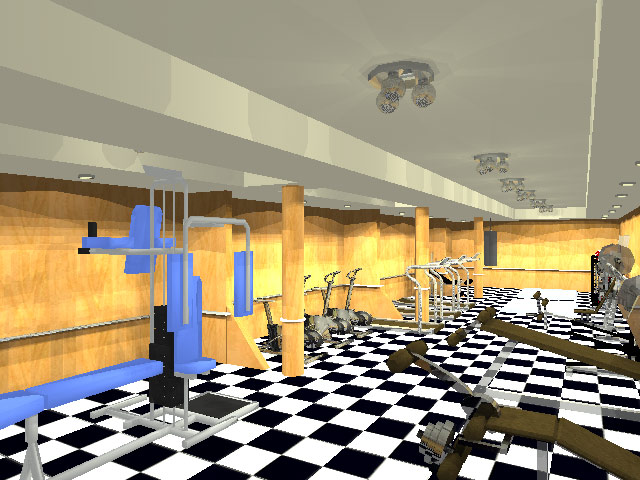 Rendering of of the aft gymnasium reconstructed for hotel guest and Club Queen Mary member use by Jeff Taylor. The paneling, ceiling and floors are full restorations while the exercise equipment is largely contemporary with a few original pieces restored.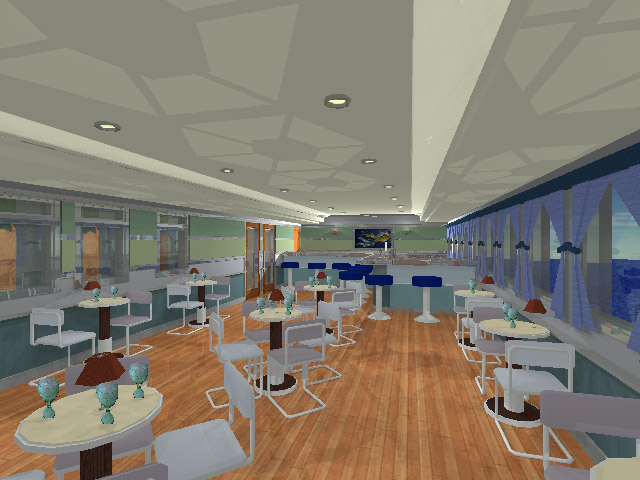 The above rendering by Jeff Taylor shows how a reconstructed Mermaid Bar might look.
---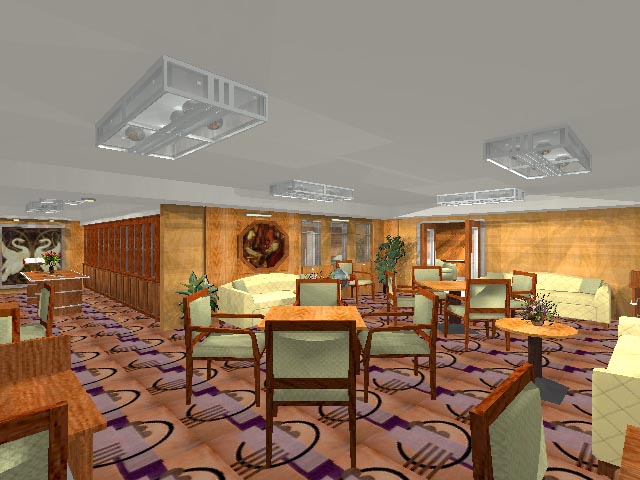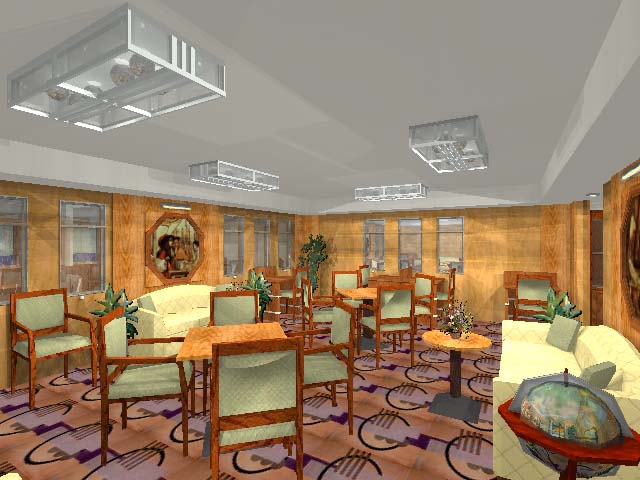 Two renderings by Jeff Taylor of the Library and Writing Room as it might be reconstructed.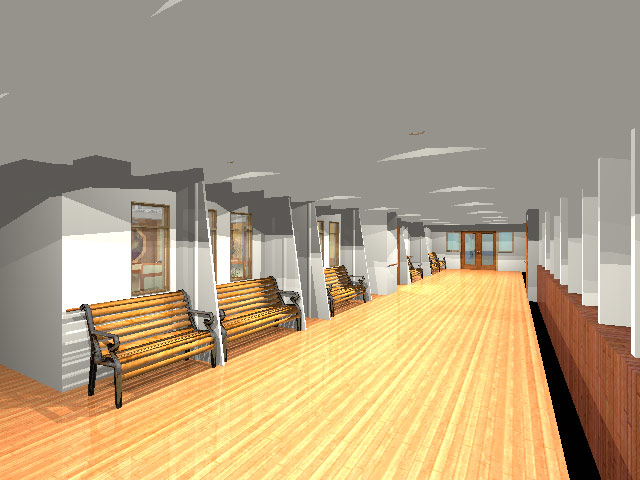 Above - The port side enclosed promenade, Main Deck, as we recommend it be restored. The passageway provides direct access to the outdoor pool from the hotel areas of Main Deck.
---
Below are five renderings of possible appearances of the outdoor pool and fantail area, by Jeff Taylor.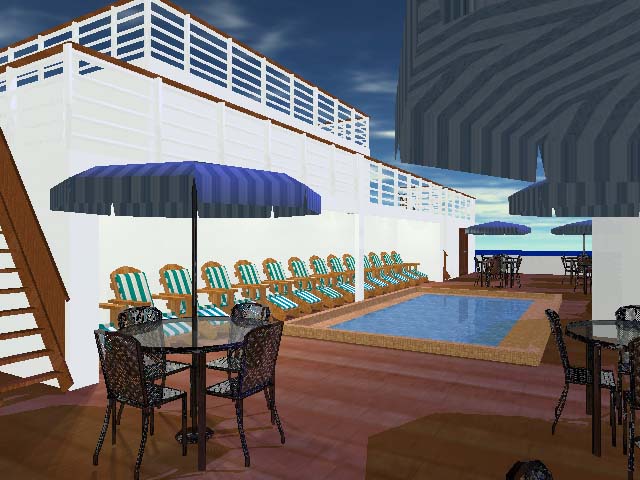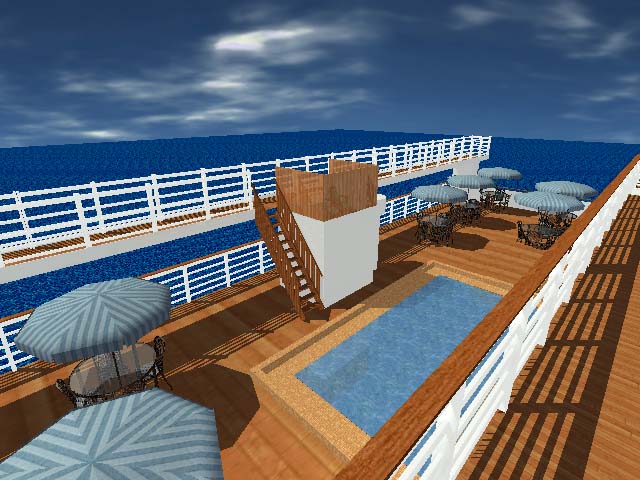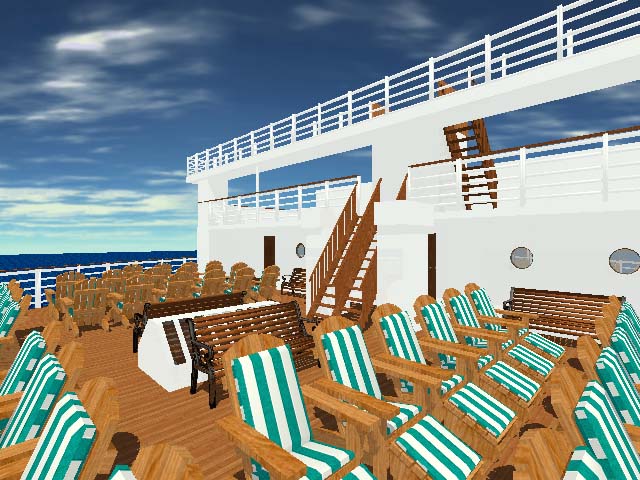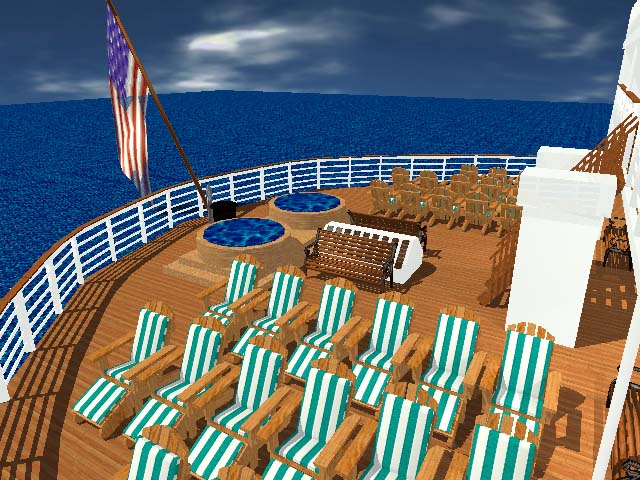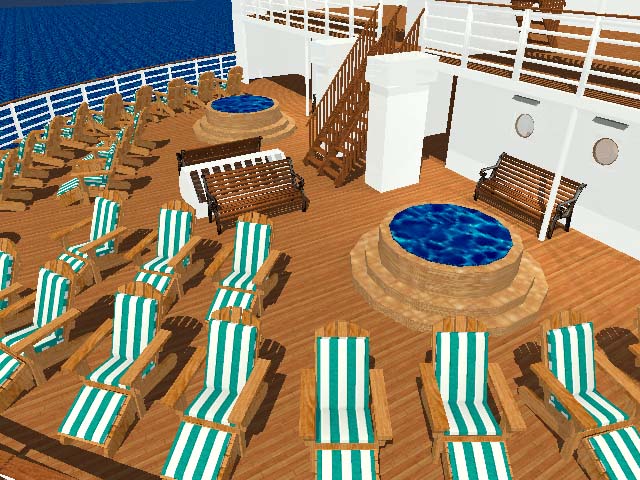 ---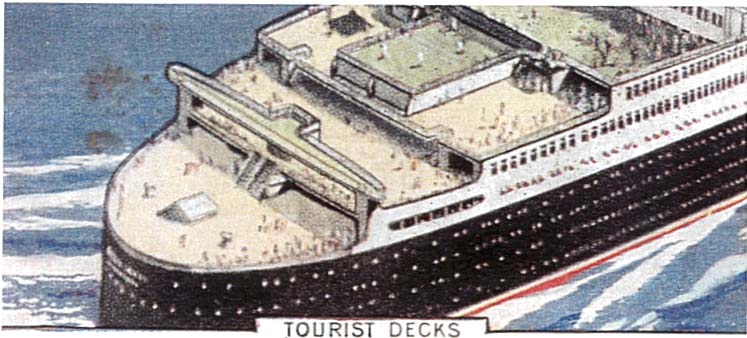 A color advertisement for Mars Candy Bars cards, circa 1936. One of a large set of illustrations that were included one by one with the popular candy bars. This illustration shows the second class deck space. Note the capstan deck with the skylight but minus most of the docking equipment. This artists conception is virtually identical to the way we are using this area for our proposed Club Queen Mary. (Illustration provided by Drake Jasso, Past Times.)
---
---