The Queen Mary
A World-Class Maritime Landmark

And
A Community Asset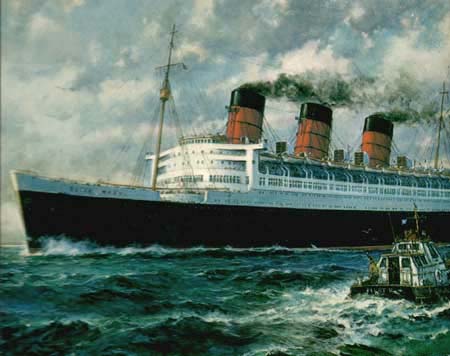 This painting by Jack Gray is today in the
Peabody Essex Museum in Massachusetts.
The Queen Mary is the last survivor of the great ocean liners that sailed the North Atlantic for the first half of the twentieth century.
We invite you to visit the historic ship as she was designed, built, and as she has changed over time. To do so enter our "Deck by Deck" series of articles. Here you can tour the amenities of the great ship as they have changed over the years, and are today, deck by deck.
We also invite you to read our second series entitled Alternative Visions. Here we show you how the Queen Mary, with all of her original public rooms from all three classes restored for functional use, might once again function as the most magnificent historic ship afloat. It is a new operational approach that captures the essence of the great ocean liner in an in-port setting.