---
Meeting Services
---
With a 365 room hotel aboard and others possible on the property, and with the ship's extensive and legendary hospitality and banqueting capabilities restored, the Queen Mary property could be a significant conference center and house a major convention magnet in the City of Long Beach.
A good place to begin this development is with state of the art conference meeting rooms.
The lounges and banqueting rooms on the ship were not designed for conference meeting use. Columns intrude on sight-lines and their possible use as meeting rooms is what keeps them stripped and dark most of the time.
The smaller public rooms on the ship are better and more profitably used for other purposes.
The best place to build for state of the art business meeting conference rooms is in new construction in the Queen's Wharf Complex that we've recommended be built adjacent to the forward half of the Queen Mary.
We see:
Nine large conference rooms with moveable partitions between them allowing for the creation of a one or more massive "ballrooms", when desired.
A sheet glass wall on the side adjacent to the Queen Mary providing a panoramic view of the ship and property from each of the meeting rooms.
A grand lobby with escalators from the wharf level and with a link to the forward tower of the ship at A Deck level.
State of the art display and telecommunications technology, perfect sight lines and acoustics in the meeting rooms.
A state of the art business service center and smaller meeting rooms on the mezzanine level below.
The Queen's Wharf Complex would house the business meetings and seminars associated with conferences and conventions. Hospitality and banqueting events would be held on the Queen Mary itself.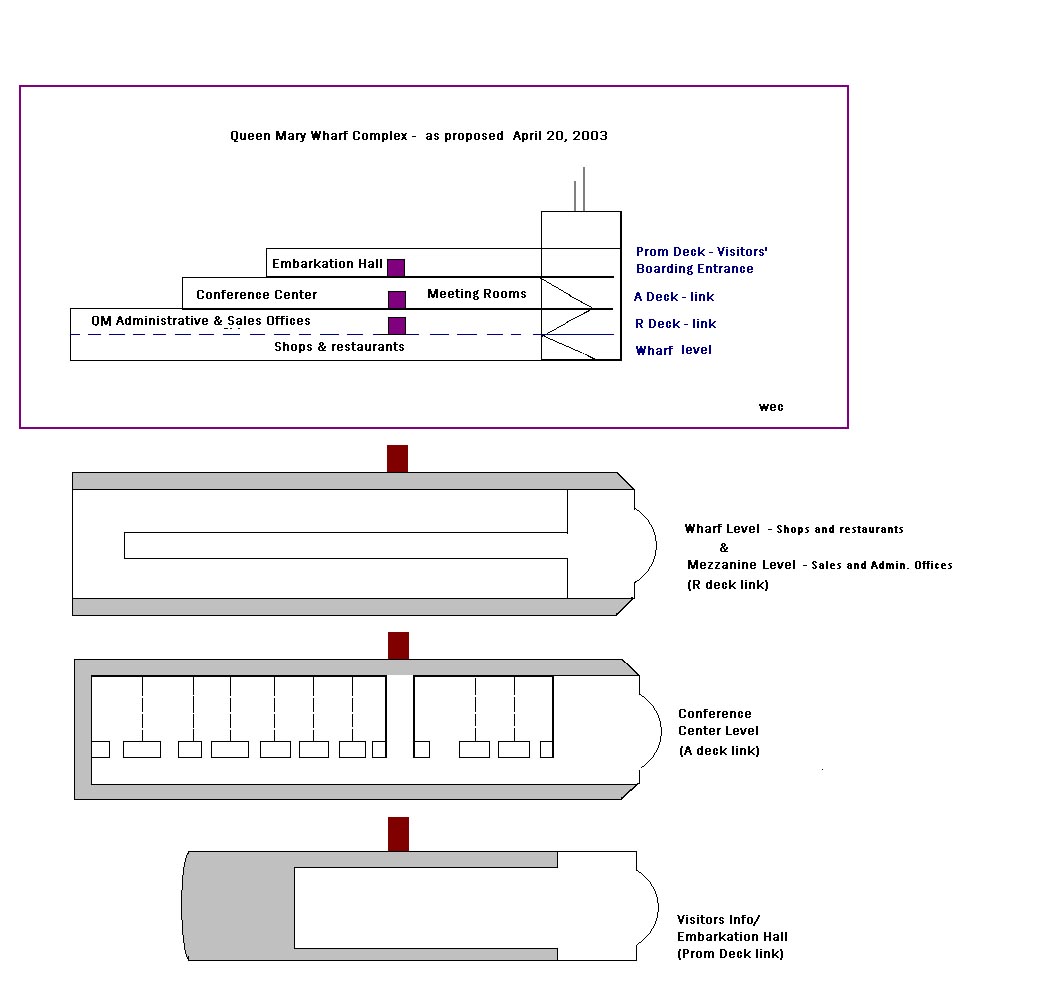 ert
---
From Conference Center to Major Convention Hotel Facility
With most potential hotel sites in downtown Long Beach currently being developed as residential space instead of hotel space, the vast undeveloped Queen Mary property might be critical to the development of the next phase of convention business in Long Beach.
The isolation of the Queen Mary property from the downtown convention needs to be addressed -- and might be solved with an aerial tram from the property to the plaza of the downtown convention center.
A large convention hotel (up to 1,000 rooms) on the south edge of the Queen Mary property atop a large parking structure would serve as a physical buffer between the ship and the already massive and still climbing cranes of the container port.
The entire complex would buffer the sight of the industrial port from the city on the other side of the Queens Way Bay.
This development would go a long way towards solving the long term Monday through Friday business problem of the Queen Mary and take full advantage of the hospitality, banqueting and meeting services facilities we recommend be restored or create on or near the ship.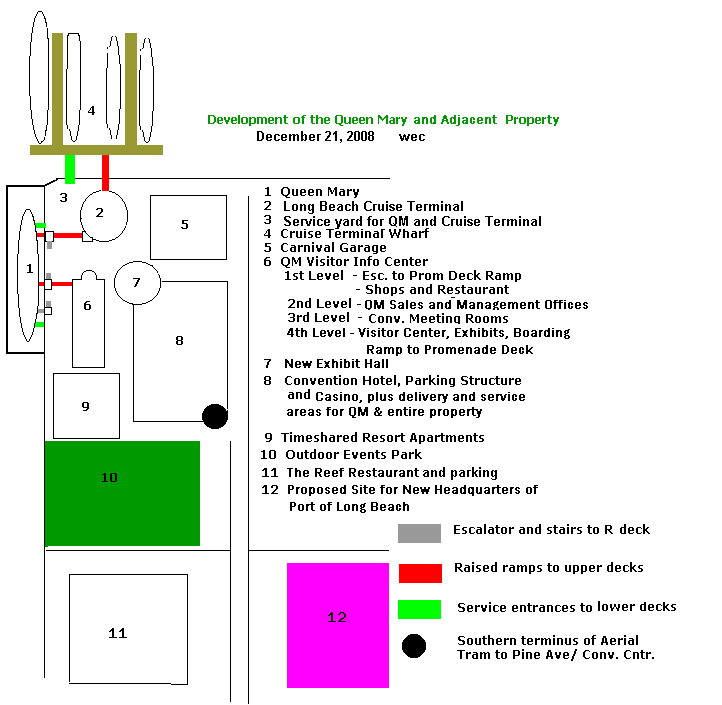 ---

Return to Alternative Visions Index

Return to Main Index
---