---
The Queen Mary Life Experience University
and Public Service Meetings
---
The university courses that Cunard plans to offer on the Queen Mary 2 and the educational and cultural enrichment programs offered by cruise lines on other ships bring to mind the lecture hall that was originally installed on the first Queen Mary. It was available to first class passengers to present their expertise to their fellow passengers – a sort of "free university." We've recommended it be restored for use in an opening presentation for the first of a series of guided tours of the ship.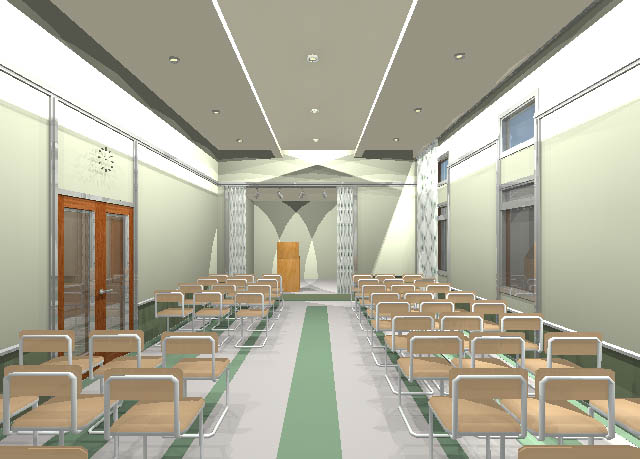 A rendering of a possible reconstruction of the lecture room, by Jeff Taylor.
There are a series of similar public rooms that survive in the forward portion of the ship that might be used as meeting rooms for a lecture and cultural enrichment program onboard the Queen Mary. These former third class lounges include a room that was used as a cinema and another that was dubbed "the library." Both the cinema and the library were furnished nearly identically and housed long library bookcases.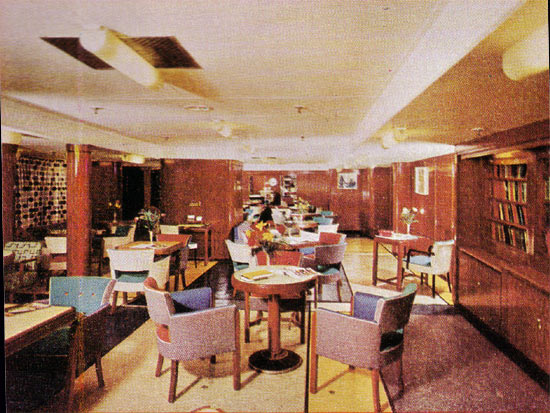 Third Class Library / Lounge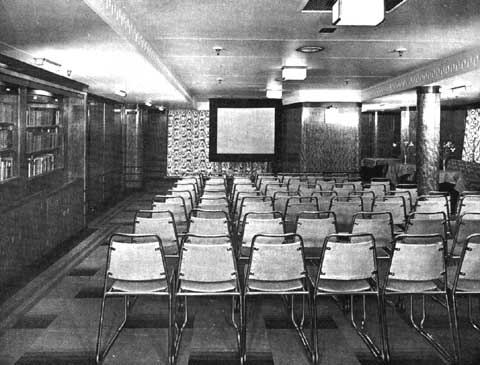 The cinema in 1936. Move the mouse over the image to see what it looks like today.
The third class garden lounge and the former third class smoking room – a handsome room that was partially disassembled for use as exhibit space in the Long Beach conversion are also candidates for this use.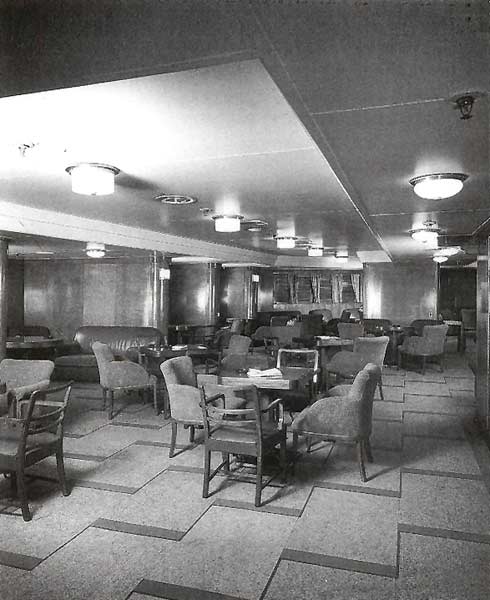 Third Class Smoking Room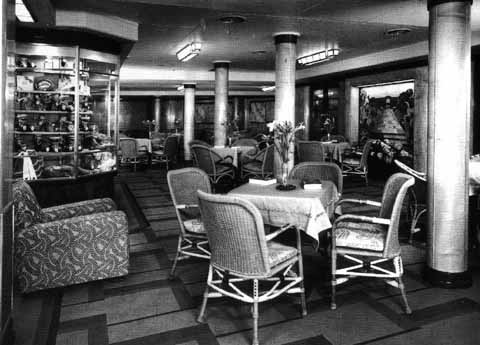 The Garden Lounge in 1936. Move the mouse over the image to see the room today.
Located on the hotel decks – Main, A and B decks, these rooms are both adjacent to and isolatable from the hotel area. They are the perfect location for an on-going cultural enrichment program that might be made available to hotel guests, Club Queen Mary members and the broader public.
The program offers a rationale for restoring this area of the ship for an active revenue generating use while not "prettifying" out of recognition the solid, handsome interiors that were once here.
One of the several kitchens restored and/or created to serve the various dining rooms might be used as a presentation room for a Queen Mary Cordon Bleu School of Cuisine for hotel guests, club members and the paying public.
---
The Courses and Offerings...
This example of the programme available on the Queen Mary 2 gives some idea of the facility that might be offered on the Queen Mary.
OXFORD UNIVERSITY PRESENTS EXPERTS TO LEAD ENRICHMENT LECTURES ON
THE QUEEN MARY 2

Immerse yourself in the passion of Jane Eyre. Examine how the ocean has influenced human life. Discover what has happened to the British monarchy since Princess Diana. Under a new partnership with England's prestigious University of Oxford, authors, historians, artists, scientists and celebrities will address these topics and more aboard Cunard Line's new Queen Mary 2, scheduled to debut in January 2004.

The "Oxford Discovery" series will offer a variety of entertaining and expert guest speakers, classes and workshops as part of Cunard ConneXions, an innovative, new cultural enrichment and entertainment programme that will be featured on transatlantic crossings between New York and Southampton, England. Guests will be able to take courses on a variety of topics such as British and American music and culture of the 1960s, Shakespeare on Film, Modern Art from the Tate to the Met, and the Internet Explosion.

The wide variety of courses enables the programme to change periodically, and guests will be able to view the course list on Cunard's website at least 90 days prior to departure. Queen Mary 2 has over 20,000 square feet of space dedicated to the lifelong learning process – more than any other ship afloat. The ConneXions facilities include seven classrooms and the only planetarium at sea.

"A QM2 transatlantic crossing gives you the luxury of time to pursue interests that you always put on the back burner at home," said Deborah Natansohn, senior vice president of sales and marketing, Cunard Line. "The Oxford Discovery program will allow our guests to interact with some of the world's top scholars in a relaxed environment."

Oxford Discovery will become a unique forum of perspectives, inspirations and possibilities. As the world's oldest English-speaking university, Oxford's internal resources and long-standing institutional and academic links are unparalleled. The university will select experts from leading educational institutions and cultural organizations in North America and Europe to take part in this new programme.

"Like Oxford, Cunard Line is an illustrious and historic British institution with an eye on the future," said Dr. Geoffrey Thomas, Oxford's director for continuing education. "We're delighted to have been asked to provide this uniquely enriching experience for Queen Mary 2 guests."

Oxford has been a centre of higher learning for eight centuries. While there is no clear date of foundation, teaching existed in some form in 1096 and developed rapidly beginning in 1167, when Henry II banned English students from attending the University of Paris. Throughout its history, Oxford has produced gifted men and women in every sphere of human endeavour who have studied or taught at the University. Among these are four Kings, 46 Nobel prize-winners, 25 British Prime Ministers, six current holders of the Order of Merit, three Saints, 18 Cardinals, 86 Archbishops, and a U.S. President.

---
Public Service Meeting Use
The third class lounges, when not in use for the attraction or on board lecture program might be made available on a targeted basis to the local organizations that serve as sponsors and/or supporters of the Queen Mary. For example, Long Beach Heritage might hold their semi-monthly board meetings here. Likewise the local Rotary Club, a long time supporter of the Queen Mary, might hold events in these rooms.
---
---