---
Restaurants and Bars on the Queen Mary
---
We believe that a series of restaurants exclusive of the three original passenger dining rooms reserved for banqueting use are an essential business component of the Queen Mary for an in-port cruise program.
Queens Seaport Development Inc, QSDI, the current master lessee, operates three restaurants, two bars and several fast food outlets aboard the Queen Mary. Unfortunately the locations of some of these restaurants intrude on original architecturally defining features of the ship. Moreover some of their locations are an impediment to a solid plan to enhance the facility both for revenue-generating hospitality services and as an historic attraction.
---
The Current Arrangement
The Promenade Café, the hotel's coffee house, and the Chelsea Restaurant, the ship's seafood restaurant, are located in the starboard enclosed promenade on Promenade Deck. These restaurants occupy space that was an architecturally defining feature of the Queen Mary – the sweeping enclosed promenades. Placed here by an early Long Beach operator eager to take advantage of the view of downtown Long Beach, they are both served from an adjacent kitchens that unfortunately occupy space that was originally the site of the famed Starboard Gallery and the pre-war Ballroom.
Sir Winston's, the ships fine dining restaurant, was located in old engineers' quarters on Sports Deck atop the Verandah Grill. This facility has great views but can only be reached by using a high exterior staircase up to Sports Deck thus limiting handicapped access. A bar is located in an adjacent lounge.
Fast Food - A fast food eatery is located in the middle funnel-uptake space on Sun Deck and unknowingly uses the original first class gymnasium site as a seating area. A pastry and coffee shop is located in what once was the first class children's playroom on Promenade Deck. Two Sun Deck engine room ventilators have been refitted as fast food snack sales counters. The one on the port side has been closed for more than a decade.
---
Our Recommendations
Verandah Grill
We see the Verandah Grill – the original first class a la carte restaurant on the ship on Sun Deck aft, fully restored as a replacement for the Chelsea Restaurant. The large outdoor deck aft would make a wonderful outdoor addition that we call the Verandah Café. Both the restaurant and the café would be served from new upper deck kitchens created forward in the former engineers' quarters, gutted for shops in the Long Beach conversion and now used as administrative offices.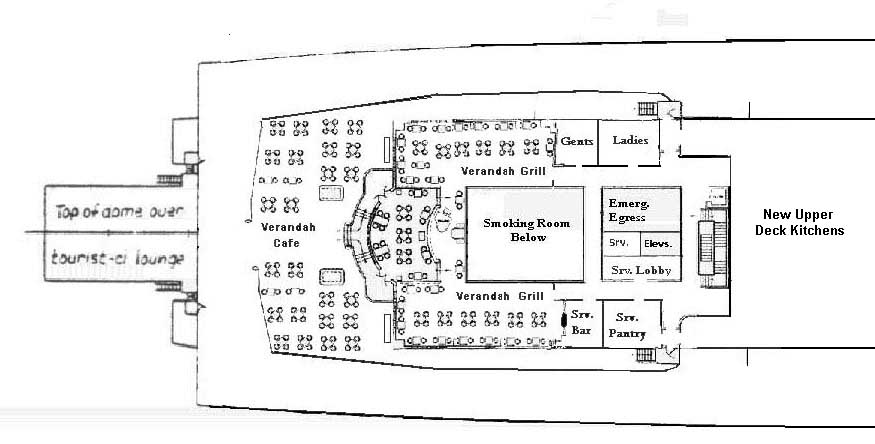 Possible rearrangement of this area - click on the picture to expand it to full size.
Renderings of the restored Verandah Grill and Verandah Café pending.
---
Sir Winston's
We see Sir Winston's remaining in place but the facility upgraded by extending the interior grand staircase just forward of it up from Sun Deck to Sports Deck. We also see the original elevator that once went from B Deck to Sun Deck restored to service and extended up one deck to also service Sir Winston's on Sports Deck. We see the outdoor deck area on Sports Deck forward and the area above the restaurant itself restored as an outdoor smoking area called Sir Winston's Promenade.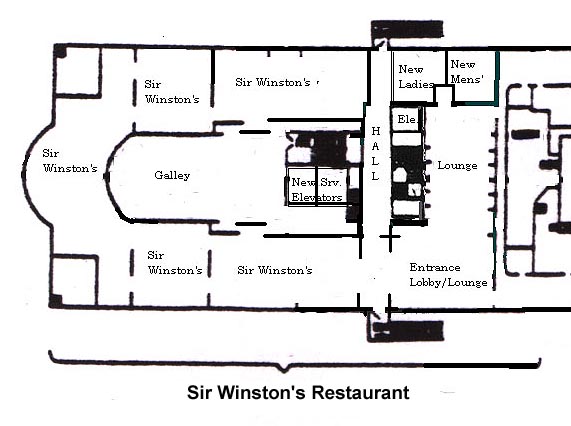 ---
Below - Sir Winston's restaurant - renderings of possible future appearance by Steve Covington-Olguin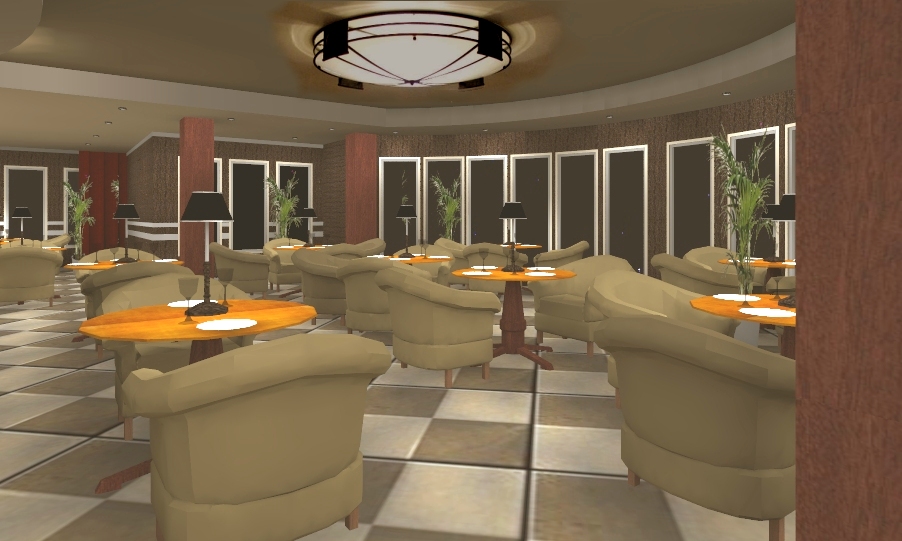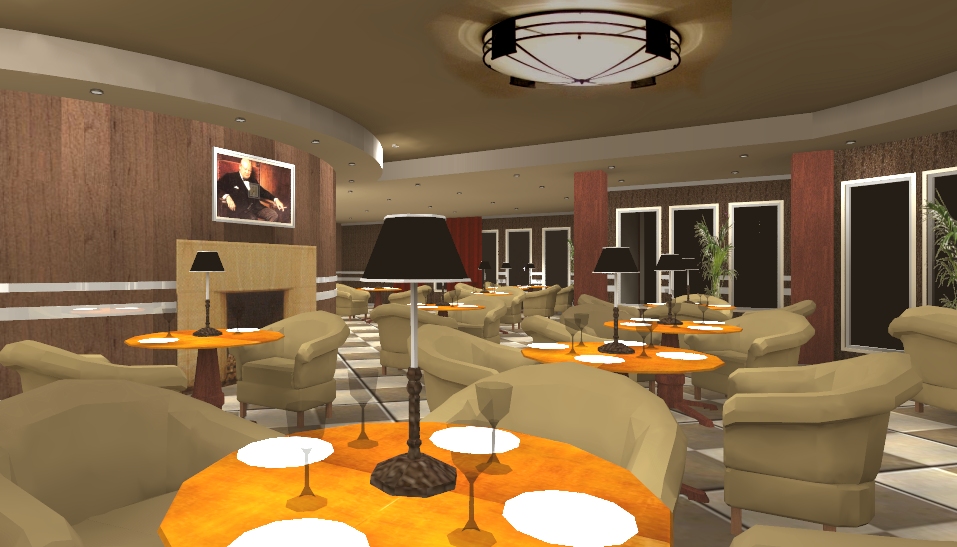 ---
Sun Deck Café and Lounge
We see the large space on Sun Deck that covers the forward third of this deck reconfigured as a replacement for the intruding Promenade Café. This area on Sun Deck was originally first class single cabins and was converted to shops when the ship reached Long Beach. When the shops failed they were converted into exhibit spaces. All of the artifacts are replaced for viewing or use in their original location in our plan. The Grey Ghost exhibits on World War II would be relocated to a Visitor's Information Center built off the ship.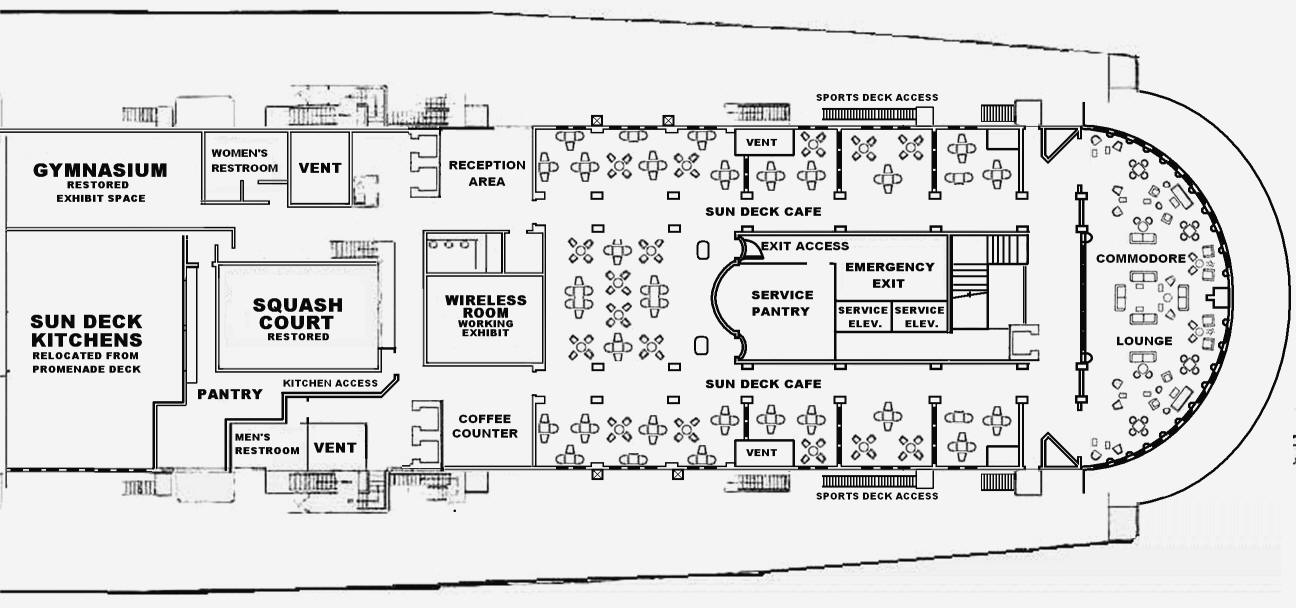 Sun Deck Forward - as proposed.
---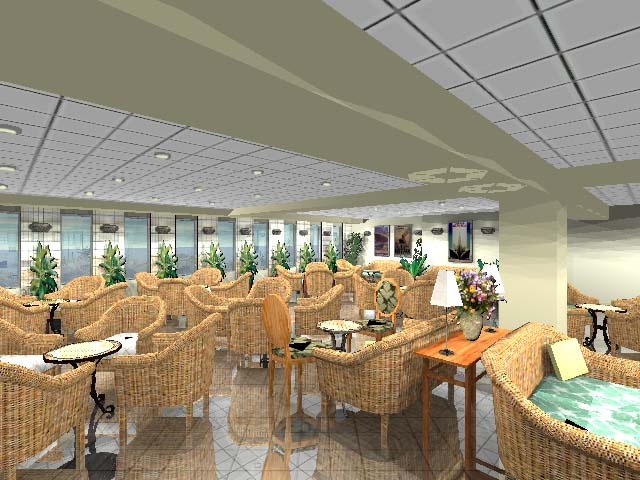 View starboard, looking aft, showing proposed rearrangement of area as a garden-lounge.
---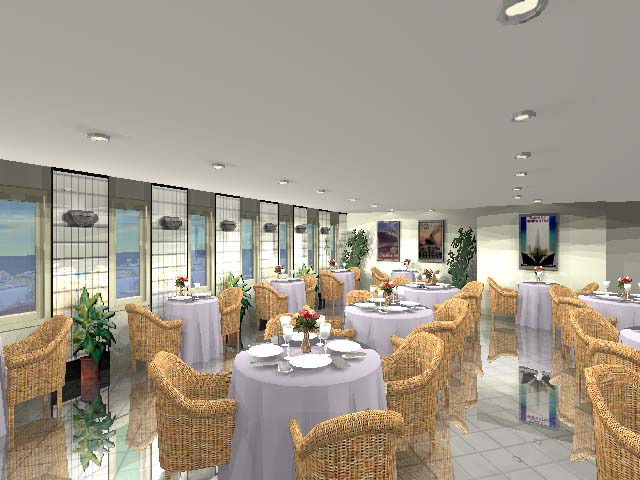 View showing same area as above set up as a restaurant.
Both renderings by Jeff Taylor.
---
The advantages of this space over that currently occupied by the Promenade Café are the following:
It is a much larger space and can seat more people than the current Promenade.


The wider space offers more flexibility in spatial planning than the very long and narrow spaces that currently make up the Promenade Café and Chelsea Restaurant.


There is easier and more convenient access to the kitchens for serving.


There are more convenient restroom locations


There are spectacular views on both sides of this space. The view of the Long Beach skyline would be complimented by a view of the emerging property development on the port side.


The move allows for the full restoration of Promenade Deck while creating a better facility for the ship/hotel coffee shop on Sun Deck.
---
Below - renderings of an alternative plan for the Sun Deck Lounge and Cafe area by Steve Covington-Olguin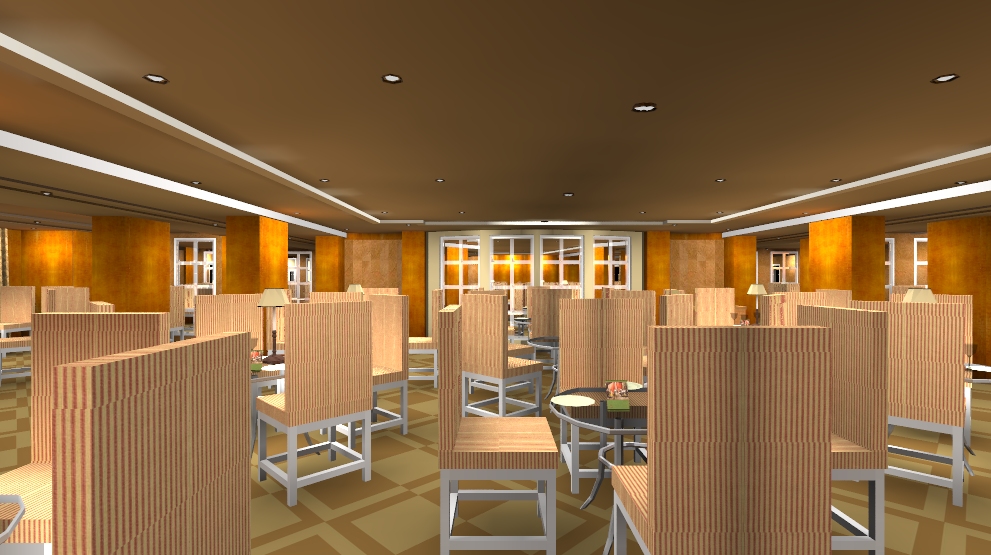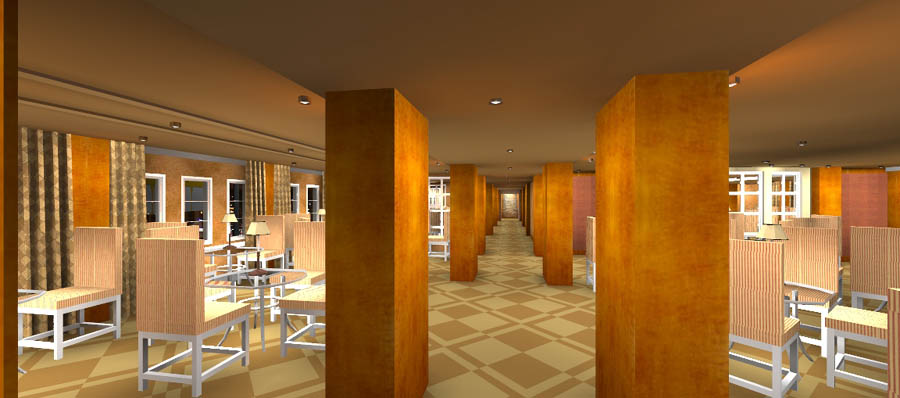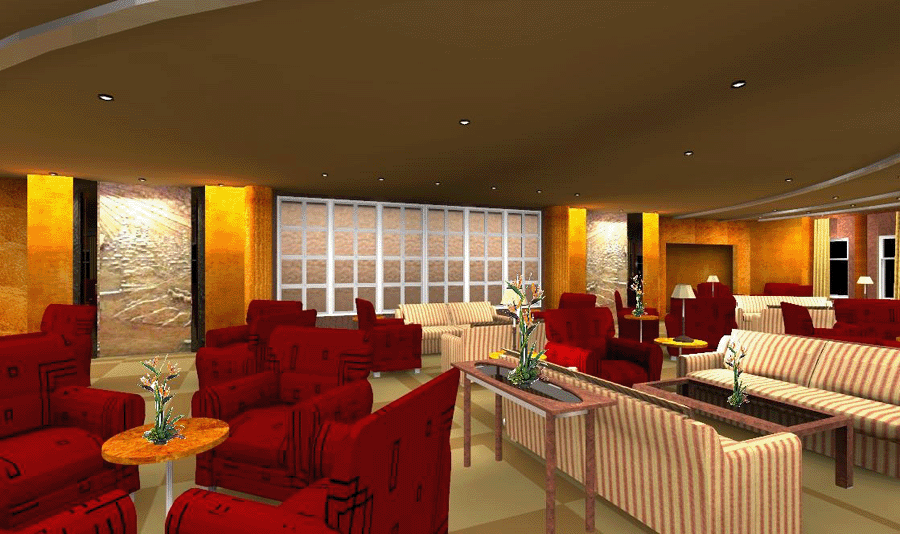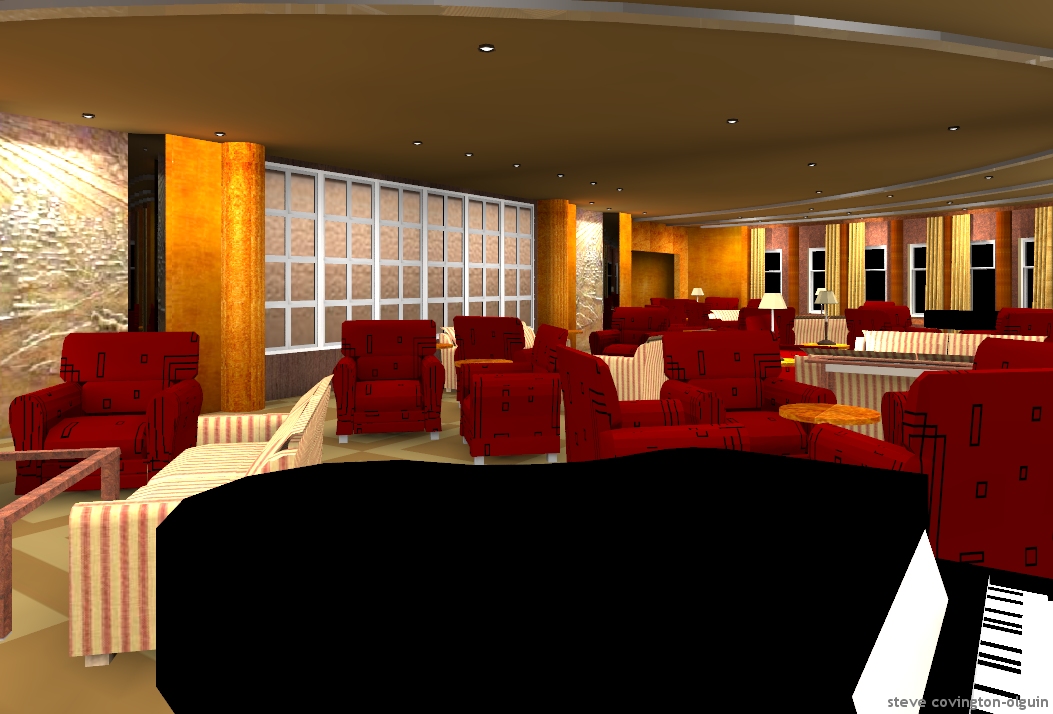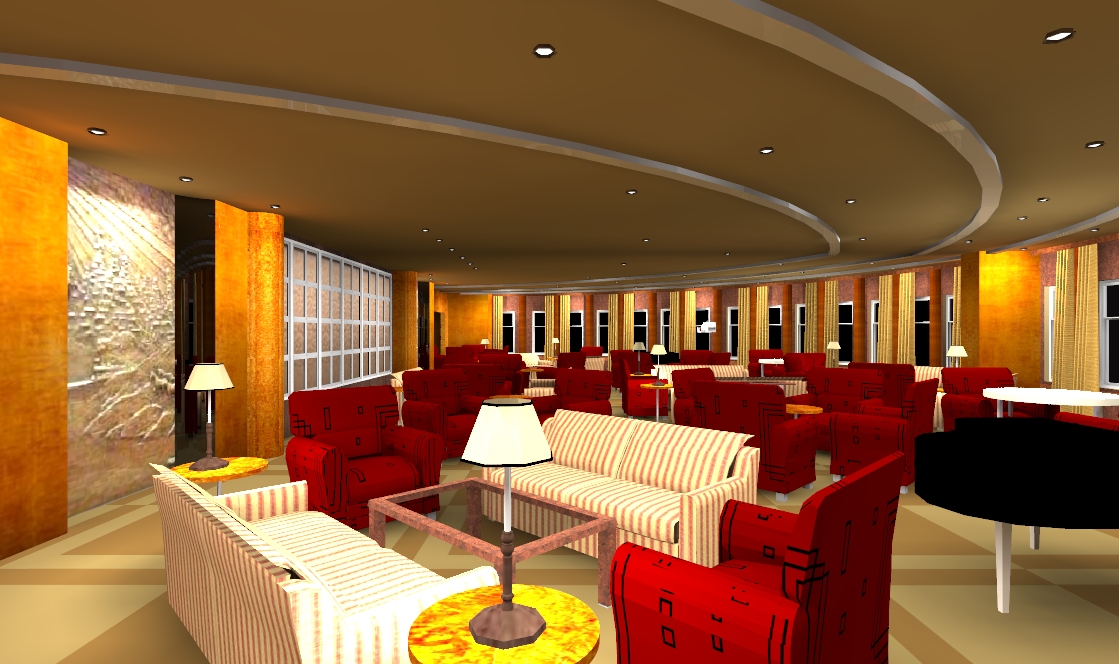 ---
Café de la Paix
We see wicker tables and chairs furnishing a section of the enclosed promenade on Promenade Deck used for serving light beverages and pastries in a true continental café spirit. The café would be a walk-through area, not a closed-off obstruction like the current Promenade Café.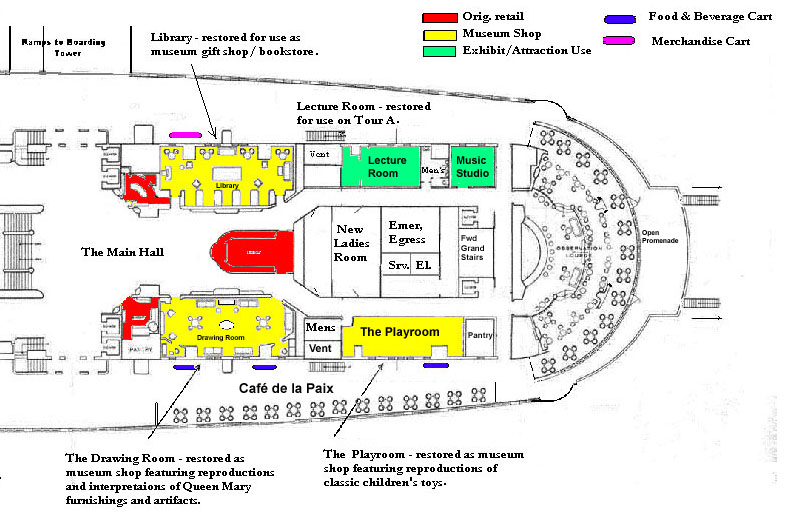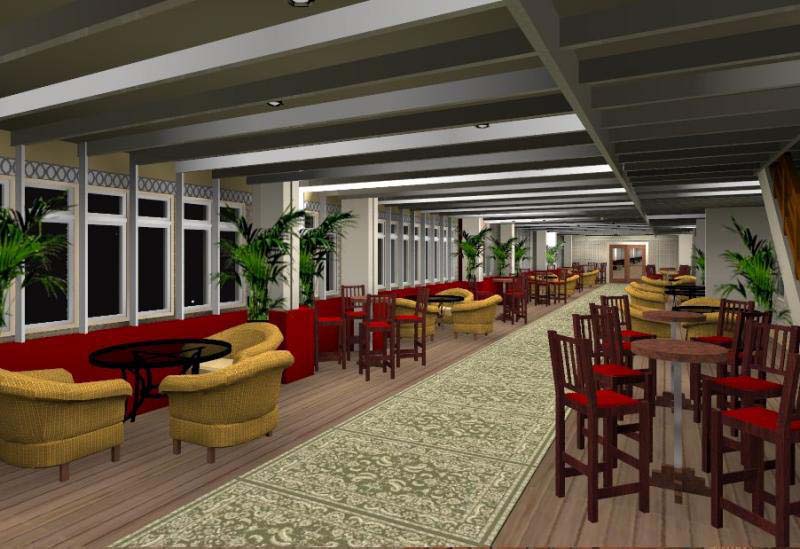 Rendering of this area by Steve Covington-Olguin
---
Deckchair Service
Groups of deckchairs might be used for beverage service both on Promenade deck and on Sun Deck. The engine room uptakes that have been taken over as fast food eateries on Sun deck might serve as wet bar service areas.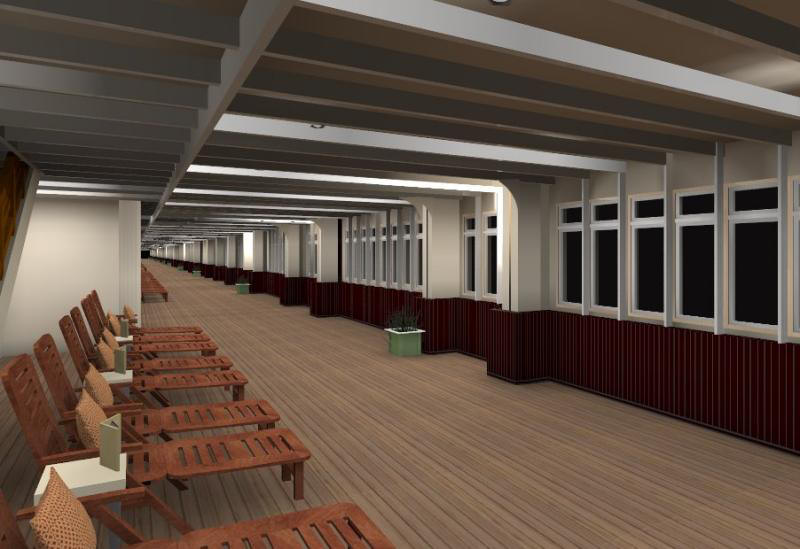 Rendering of a possible appearance of promenade deck by Steve Covington-Olguin
---
Observation Bar
At present the Observation Bar has been has been extended beyond its original dimensions to incorporate not only the forward enclosed promenade area but also an exterior walkabout at the front of the ship. The exterior walkabout is enclosed with clouded, weather damaged, plexi-glass panels. We see this exterior area freed up and the OB confined within the extended area that incorporates the forward enclosed promenade (see deck-plan above).
Rendering of bar as proposed pending.
---
Restaurant and Bars for Hotel Guests and Club Queen Mary Members only
Club Queen Mary Dining Room - see deck plan below
We recommend creating a dining room exclusively for hotel guests and Club Queen Mary member's use on R Deck aft. A coat and tie and dress policy would apply for customer use.
The Pig 'n' Whistle - see deck plan below
We see the original site of the Pig 'n' Whistle and adjacent original baggage handling area restored as pub for hotel guests and Club Queen Mary members in the late afternoons and evenings.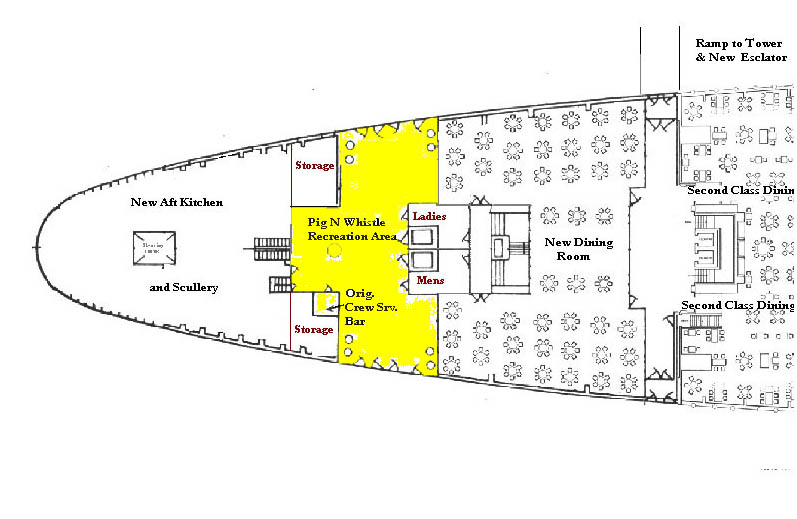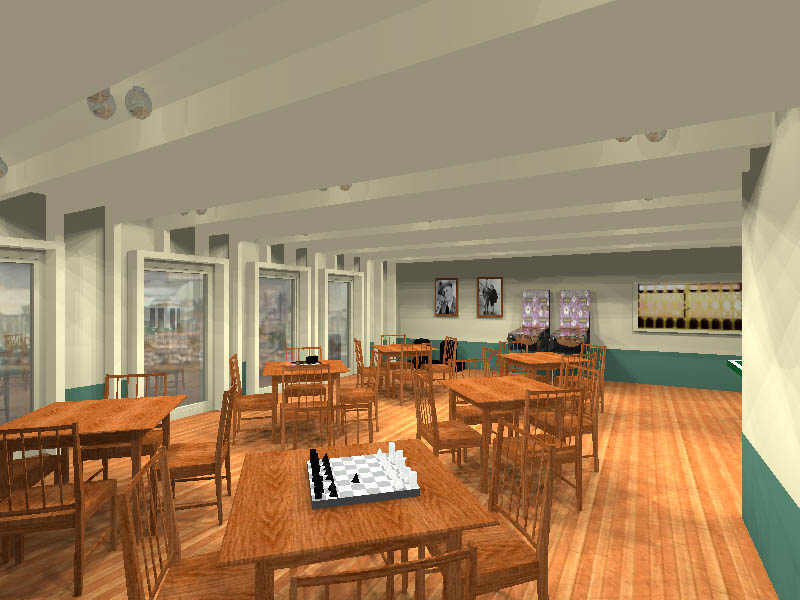 A rendering by Jeff Taylor of a restored Pig 'n' Whistle
---
The Club Smoking Room
We see the restored second-class smoking room on Promenade Deck aft serving as a sports bar for club members and hotel guests.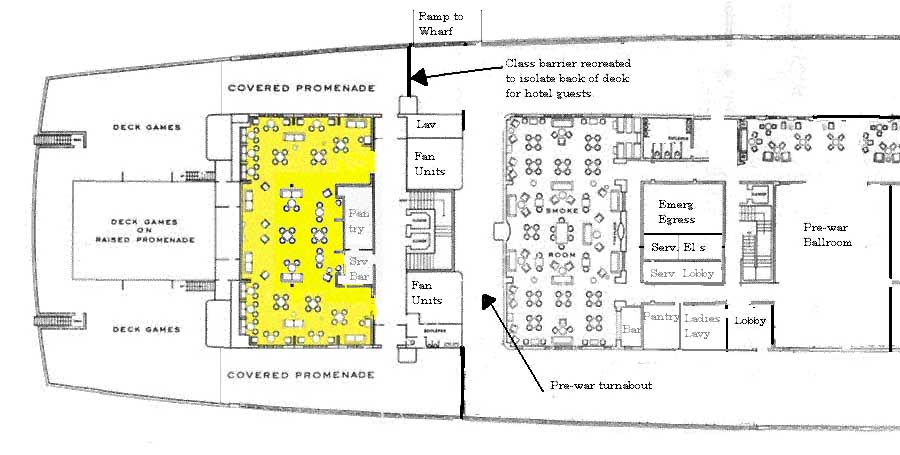 ---
Mermaid Bar
We see the famed Mermaid Bar recreated on Main Deck as part of the Club Queen Mary and Hotel Queen Mary facilities.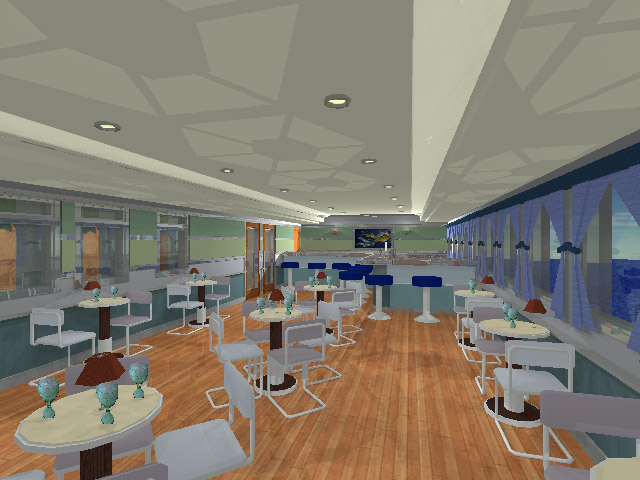 The above rendering by Jeff Taylor shows how a reconstructed Mermaid Bar might look. This would be constructed one deck down on Main Deck (see deck plan below).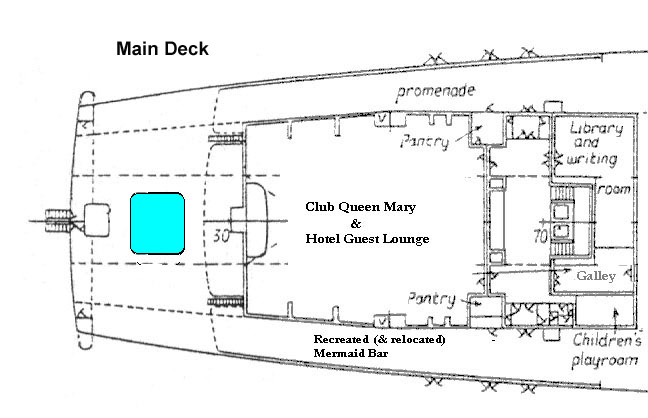 ---
Deck Chair Service
We see the deck chairs on Main Deck aft and on the capstan deck reserved for hotel guests and Club Queen Mary members use. This deck-chair bar-service is an outdoor extension of service from the recreated Mermaid Bar.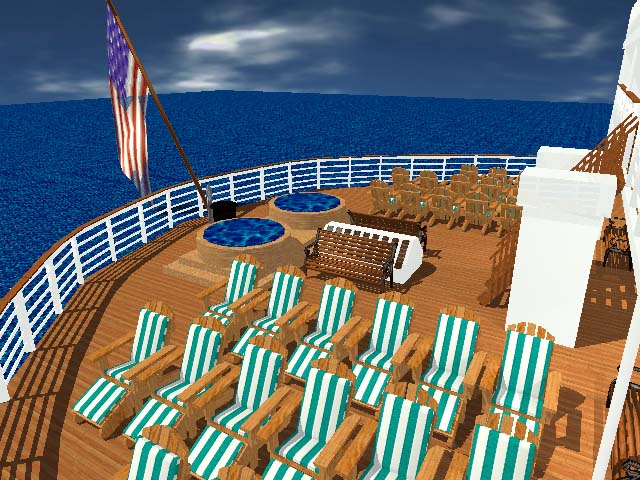 ---

Return to Alternative Visions Index
---