---
The Upper Deck Public Rooms and Lounges
Creating a World Class Entertainment Venue on the Queen Mary
---
The Queen Mary has ample space for both small to large scale banqueting services using her original dining rooms on R deck alone. If six to nine state of the art conference meeting rooms (with moveable panel walls allowing for multiple configurations) as well as a large theater/auditorium are created in the proposed Ocean Terminal, sit down banqueting and conference meeting needs will be fully met without intruding into the ship's original passenger lounges on the upper decks.
What then would these original lounges be used for?
In our proposed usage, the second class lounges at the after end of the ship would be absorbed into a "ship within a ship" concept. They would be reserved for the use of hotel guests and local members of the "Club Queen Mary."
The second class smoking room at the aft end of Prom Deck, now a "wedding chapel" might become a smoking room for hotel guests. Alternatively it might serve as their card room – as it did for passengers when the Queen Mary was in single class cruise mode.
The original second class lounge would be restored. Along with its adjacent amenities, the second class library, writing room and possibly even the children's playroom, they would serve as the focal point of social life for guests of "a ship within a ship."
The third class lounges at the bow, including the garden lounge, library and cinema would be absorbed into the attraction. They would be seen and used on our proposed Tour B. The restored third class smoking room would serve as a lounge for day time tourists. After regularly scheduled tourist hours (10:00 a.m. to 6:00 p.m.) they might also be used for meetings, private receptions and activities associated with the "in-port cruise program we envision as part of the "ship within a ship" hotel concept. Lectures and presentations might be held in them.
The garden lounge, once the main lounge of third class passengers might be used to host cocktail receptions followed by dinners in the third class dining room two decks below. A fine original staircase and large elevator link the two rooms.
The library and the cinema would make fine meeting rooms for key local social and cultural groups like the Long Beach Heritage Coalition and Cultural Heritage Commission.
This leaves the magnificent suite of first class public rooms on Promenade deck. We have proposed fully restoring them to their pre-war elegance. This includes the first class main lounge, long gallery smoking room, ballroom and starboard gallery.

The layout of promenade deck today, showing changes since WW2.

A possible restoration showing restored pre-war turnabout.
---
How might they be used for maximum dramatic effect and profit?
We see a whole series of uses for these rooms.
During regular daytime touring hours - 10:00 a.m. to 6:00 p.m., this suite would shown on our proposed Guided Tour A. When individual rooms are needed for private events during touring hours, a series of lobbies (that we propose to enhance) between the rooms (see our proposed restoration deckplan) allows them to be avoided.

The restored rooms would serve as a magnificent backdrop for receptions, weddings and other social events. With their original internal corridors restored and unblocked they can be used individually or ensuite. While sit-down banquets would no longer be held in these room, receptions serving wine, cocktails and light canapes to "heavy hors d'oeuvres" might be held in these rooms."

With very little day to day re-arrangement of furnishings lovely weddings, anniversaries and other ceremonies and associated receptions might be held in any of these rooms. This is how the QE2 did wedding and other ceremonies while on extended stay in Japanese ports in the 1980's. A contrived "wedding chapel" was unthinkable to Cunard.

Wedding ceremonies and social receptions might be followed by magnificent banquets on R deck. Imagine guests being summoned to dinner by the blowing of a bugle, a Scottish bagpipe, or the ringing of chimes. Guests would then be escorted down one of the many grand staircases that link the upper decks to R deck where the dining rooms are located. What banqueting facility in the entire region could compete with this authentic and unique approach for sheer drama?

The main lounge, possibly used ensuite with the other first class public rooms on Prom deck, could serve as a fabulously elegant and luxurious live entertainment center on week-ends.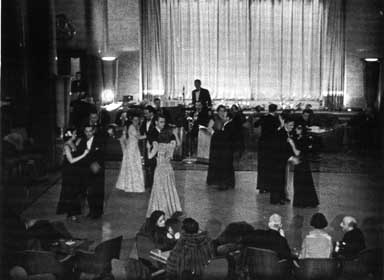 The Queen Mary's First Class lounge in use during 1930's
We are not suggesting running a dinner theater in this room – as was tried in the 1970's. The room has a stage, but almost no backstage area. Hosting full scale Broadway style musicals must have been a daunting challenge. It may also accounts for some of the damage that has been done to the facility around the stage and backstage.
We envision instead a room furnished with both original and reproductions of original lounge furniture. A combination of overstuffed sofas and chairs – on the periphery - and very comfortable tables and chair sets towards the center of the room. We see two custom designed bars in the alcoves at the forward end of the room. We envision an elegant crowd enjoying the show with solicitous waiters serving drinks. During an extended intermission we see the audience moving through a heavy hors d'oeuvre line in the long gallery, some stopping to sit at elegant tables and chairs set up in the restored ballroom, others moving into the smoking room to light up, (and to be entertained by an elegant magician), and others making their way into the starboard gallery for a quieter atmosphere or returning to the main lounge itself.
What a fabulous and extravagant use of space! It brings to life the grandest of evening entertainments on the flag ship of the Cunard-White Star line in the pre-war era.
We envision tickets for the evening program (inclusive of food and beverages) marketed and sold through ticket master and travel agents for significant prices.
On stage we envision a caliber of entertainment that matches the quality of the venue and the practical realities of the setting. We do not see full scale Broadway musicals or Las Vegas style reviews overpowering the stage and overwhelming the setting. We see high-end cabaret, musical concerts, chamber music, vocalists, and even drama.
A number of people who sailed on the Queen Mary have had their lives celebrated in "one person" shows. These include John Barrymore, Truman Capote, and Marlene Dietrich. A sharply focused dramatic show on Dietrich's life is now a critical hit on the London stage. It will open in New York City in April of 1999.
Spending "an evening with" these luminaries on the stage in the first class Main Lounge would be a fantastic way to experience the real Queen Mary at its finest. We believe that the "Main Lounge" of the Queen Mary could become a world famous theatrical and cabaret venue.
---
Related articles from the Retained Riches, Lost Glories and Hidden Treasures areas series of articles are available on this site:
---
---